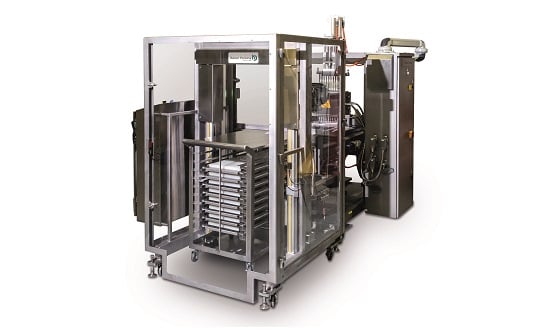 Baker Perkins has developed an automatic mould stacking and cooling cart system for ServoForm™ Mini starch-free depositors.
The key benefit is eliminating additional labor needed to remove and stack moulds from the machine.
The system automatically loads moulds from the ServoForm™ Mini into portable racks for transfer to a cooler. It comprises a stainless steel cart lifter, attached directly to the delivery end of the ServoForm™ Mini, and a set of portable stainless steel carts, each with a 10 tier mould rack.
Simple operation
When loaded into the unit, the cart is lifted so that the bottom tier is level with the delivery end of the depositor. Moulds from the depositor are loaded into the bottom level of the rack until it is full, at which point the rack is indexed down and the next level filled.
When all 10 levels are filled the operator removes the cart and replaces it with an empty one. While this is happening the depositor is automatically paused and restarts only once the new cart is in position.
Loaded carts are then transferred to an insulated walk-in cooler. Baker Perkins' walk-in cooler includes a 0.5hp penthouse refrigeration system complete with condensing and evaporator units and operates down to 35°F.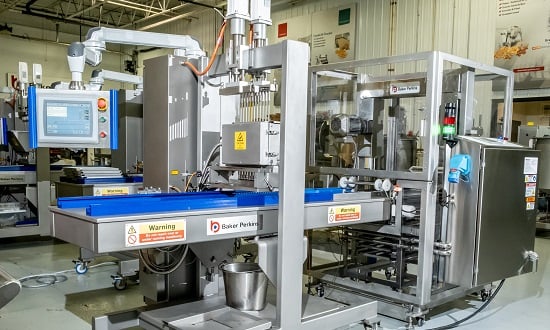 Training provided
Baker Perkins will provide a half day of training covering the installation, commissioning and operation of the equipment, in the Innovation Center in Grand Rapids, Michigan or in a virtual format.
Continuous innovation
This innovation continues the evolution of Baker Perkins' low output cooking and depositing systems. A new continuous line – developed in response to demand for a 50 kg/hr system with the efficiency of automatic operation – means that the ServoForm™ Mini range now comprises batch and continuous options for both cooking and depositing.
These systems are ideal for high-value production environments, or to produce short runs/large batches for research, product development and test marketing purposes.
Based on Baker Perkins' proven ServoForm™ depositing technology, Mini depositors have the same specifications as the full-size equivalent for precise scale-up. They are extremely flexible, and capable of rapid change between different products by simply replacing the moulds.
Most have been sold to make functional gummies, increasingly used to deliver a variety of ingredients including vitamins, minerals, fiber, CBD, protein, Omega-3, probiotics and energy supplements.
If you are looking to make normal or functional and medicated gummies, then our gummy production lines consist of a range of machines to help you produce them on a large scale.