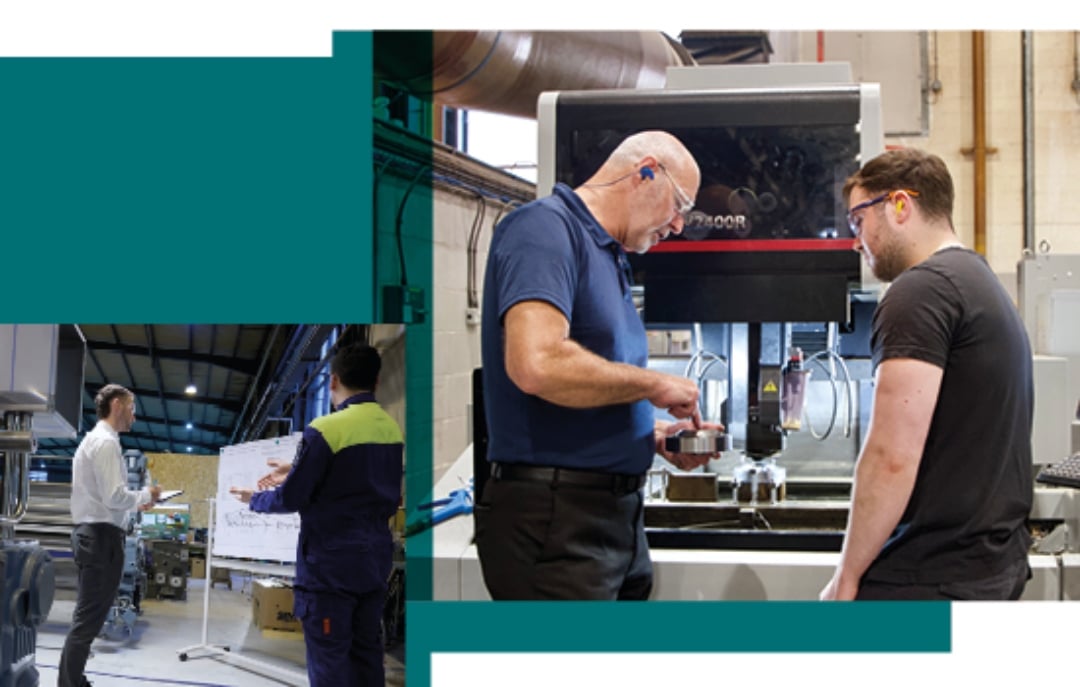 Most of the work we do with schools is off-site, so for this year's National Apprenticeship Week we flipped it and hosted a series of dedicated events here at our HQ.
Sarah Worsley joined Baker Perkins in August 2013 as an HR Officer. She was promoted into her current role of Senior HR Officer in June 2017 and is one of the driving forces behind our apprenticeship programme. Here she shares more on the work we do locally to promote our offering, including last week's dedicated National Apprenticeship Week events:
Baker Perkins has been building relationships with schools and colleges in the Greater Peterborough area since before my time, promoting how engineering careers fit with STEM subjects, apprenticeships and the opportunities within our business.
Apprenticeships have been part of the fabric of Baker Perkins for many years. For our business to continue to prosper and grow, it's vital that we attract and inspire the next generation of engineering talent, as well as seasoned professionals. As such, we recruit apprentices annually and they are a key component of our succession planning pipeline. Furthermore, many of our senior managers have started their careers as apprentices – testament of the value of our programme and the career pathway apprenticeships provide, as you study all the way up to Degree level.
Most of the work we do with schools is off-site, so for this year's National Apprenticeship Week we flipped it and hosted a series of dedicated events here at our HQ.
Why? Because no presentation, video or photography has quite the same impact as coming here to discover more on who we are, understanding how we support the food processing and industrial extrusion industries, to see our technologies and the scale we operate on. And we know it's daunting leaving school and walking into this environment – you're propelled into the unknown, so giving youngsters the chance to experience all this first-hand and meet some of the team and our apprentices is invaluable.
Inspiring the next generation
With the increasing profile of women in STEM and careers in industries such as engineering and food technologies now holding lots of appeal for women, it was encouraging to welcome female students amongst the 42 who attended our events alongside their teachers from three local schools.
Everyone came with the right attitude – they engaged in activities, asked questions, chatted to current and past apprentices and demonstrated a curiosity that we love to see.

Pupils taking part in our Apprenticeship Week quiz
With the support of colleagues from our Manufacturing, Sales and Health & Safety teams, we were able to show how we support customers all under one roof – from design, fabrication, machining and assembly through to sales and maintenance – whilst also sharing how talented young apprentices can develop and grow into any number of roles. Furthermore, opportunities aren't limited to Peterborough – we're part of a global network with international customers, so travel opportunities exist.
So, did we achieve our aims? Teachers have shared with us sentiments such as "Many thanks for inviting our students to an informative session and tour today. The student feedback was very positive too" and "This was such a valuable visit for them and has certainly opened up their minds in terms of engineering opportunities" whilst the internal feedback has been equally positive. Therefore, yes, I think we can put the week down as a success!
Attracting and supporting the next generation
Baker Perkins & schools: on a regular basis myself or colleagues from our Apprenticeship or Sales teams will work with local schools, for example GPUTC, Arthur Mellows and Ken Stimpson, and get involved with mock interviews and careers evenings.
These events are a great opportunity to speak to both parents and students. Parent education around apprenticeships is hugely important. They need to appreciate their potential and worth, especially if they followed the more traditional university route or went straight into work. Throw in the current cost of living crisis alongside potential student debt and the 'earn whilst you learn' proposition might become more compelling.
We're keen to develop links with more schools in the region and would encourage any teachers or careers advisers to reach out via [email protected] and discuss how we can work together.
Baker Perkins & Growth Works: I've been working with Becky Cook, Senior Business and Skills Manager, and Debbie Longhurst, Business and Education Manager, for many years. As a business they specialise in helping businesses grow and they are a key partner for us regarding talent and skills development.
Their network and events help connect us with our target audience and the pro-active sessions we have together are invaluable to prompt thought and debate and actionable outcomes.
Teamwork: we're fortunate to have brilliant people like Nigel Wilkinson, Apprenticeship Co-ordinator, and lots of great mentors across the business.
Our mentors are the key foundation to a successful apprenticeship scheme, passing on their knowledge and expertise, ensuring these engineers of the future are given the best start to their career.
Nigel and I support the programme with the co-ordination of the training through our preferred partners and ensure that apprentices are supported throughout.
It's an enjoyable and rewarding part of my job; you get to see people come into their own and realise their potential, so I hope we see some of the faces we've hosted this week here for an assessment and applying for one of the seven places available for September.
Applications for Level 3 (Advanced) apprenticeships at Baker Perkins, starting September 2023, close on 28 February. Everything you need to know can be found online at: https://bakerperkins.com/careers/apprenticeship-schemes