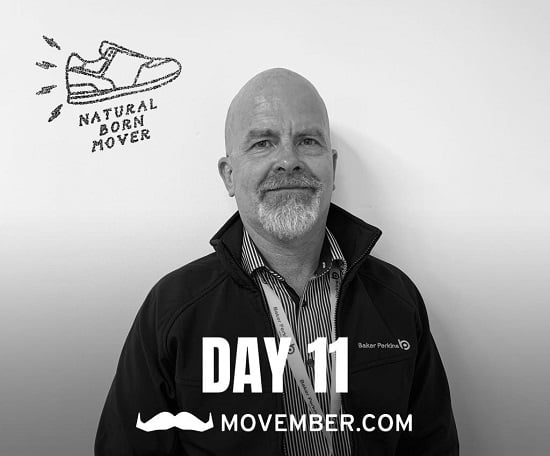 Throughout November we will continue to shine a light on the personalities involved in this year's Movember effort, along with the teams' achievements.
Ahead of this week's Watt Bike Challenge between the Office and Factory teams, we spoke to David Walker, our Health, Safety & Environmental Manager and Team Factory captain, to discover why he's working closely with Peter Holly to make this year's Movember the most successful yet.
"I have always been a big supporter of all things Occupational Health and health awareness.
I worked as an Offshore Medic/Safety on an offshore installation for 13 years. We were 135 miles North East of Aberdeen working on a 3 weeks on/3 weeks off rota and my role was pretty varied. As well as diagnosing medical conditions, issuing prescription medication and dealing with all medical emergencies, the other important part of my job was health surveillance/OH screening and associated activities including health awareness/promotion. This is beneficial for employees in any job, but especially so when you are away from home in the middle of the North Sea and the associated challenges that can bring.
One of the most rewarding topics/presentations I gave was on Benign Prostatic Hypertrophy – an enlarged prostate pressing on the bladder and urethra, blocking the flow of urine in layman's terms – which resulted in 5 out of 35 colleagues seeking guidance and subsequent treatment via their GPs.
Over the years I have also been involved in health promotion in onshore roles, including spending several years working as a Senior HSSE Manager for an oil and oil gas company in Aberdeen before leaving 'God's Country' (as referred to by the locals) and returning south of Hadrian's Wall to our home in Downham Market.
After experiencing a health scare myself in 2017, I ran the London Marathon on behalf of the British Skin Foundation, raising £3,500. It was my way of saying thank you to the NHS for the support I received and to enable further investment into the eradication of cancerous skin conditions.
Having joined Baker Perkins in September, I want to lend my support to both the Movember cause and my colleagues. Like Peter's said before, if we can get more people talking and checking themselves before it's too late, then we're on the right track."
To support our teams, please visit their fundraising pages: