PRESS RELEASE PETERBOROUGH, UK, 18TH SEPTEMBER 2023
~ Apprentice and mentor receive recognition at prestigious awards event ~
Baker Perkins, a Schenck Process Food and Performance Materials (FPM) company, recently
celebrated the remarkable achievement of scooping five finalist spots in the Peterborough
Telegraph Apprenticeship Awards 2023.
Four apprentices and one apprenticeship coordinator were shortlisted in the Degree
Apprentice, Engineering Apprentice, and Mentor of the Year categories.
In the Degree Apprentice category, Abbi Pacey, Financial Controller, is recognised for her
swift career progression from trainee to team leader, becoming the 'go-to' person for all
things finance. In the same category, Dean Gosling, Senior Mechanical Design Engineer,
received recognition for his contribution to designing the recently launched Baker Perkins
Cooling Conveyor for industrial extrusion systems used in the manufacture of powder
coatings.
Two apprentices made the shortlist in the Engineering Apprentice group – James Barrett
and Rhy Ockwell. James, also a runner-up in the Apprentice category in the 2023 SHAPA
awards, was shortlisted for a project that drove process improvements. James designed
innovative drawer shadow boards which have been widely adopted across the factory to
organise tools more efficiently. Also achieving wider recognition, Rhys was nominated by his
college to participate in the WorldSkills UK Welding Competition and is acknowledged for
offering peer-to-peer support to his fellow apprentices. At the Peterborough Telegraph
awards event, Rhys was named Engineering Apprentice of the Year.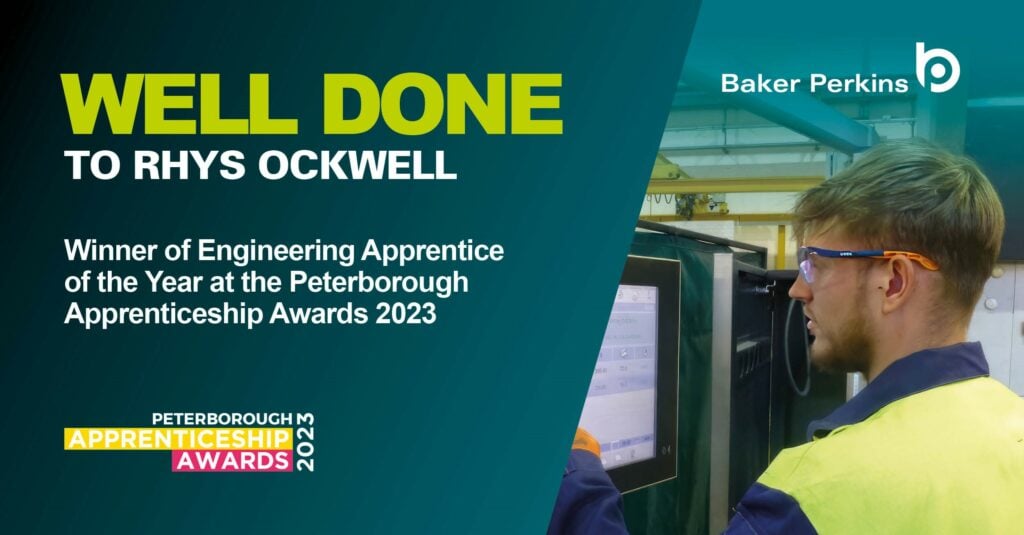 Nigel Wilkinson, Apprenticeship Co-ordinator and Mentor, won Mentor of the Year. Nigel is
the chief mentor for the Baker Perkins apprenticeship programme and this award
recognised his skill in helping apprentices develop their own skills in line with their learning
preferences, unique qualities and career aspirations.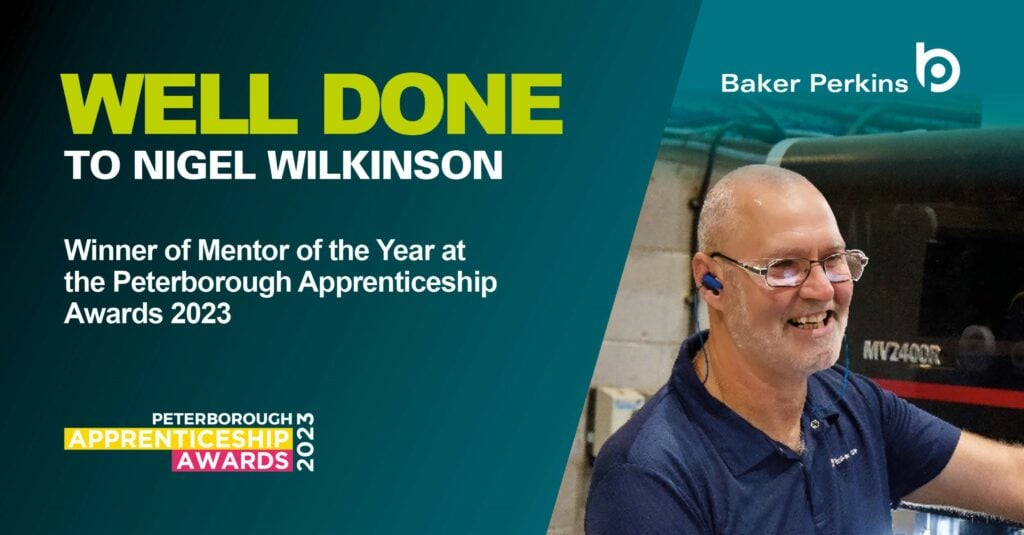 Suzanne Dellar, Director of HR at Baker Perkins, said, "Securing so many shortlists and two
winners in strong categories is a testament to Baker Perkins's unique approach to its
apprenticeship programme.
I believe the success of our strategy is due in great part to our focus on nurturing individual
talent; rather than a one-size-fits-all approach. We're incredibly proud of our very talented
apprentices and apprenticeship team.
We will continue to highlight the achievements of all apprentices across our businesses to
showcase their talents on our company website and at future awards."