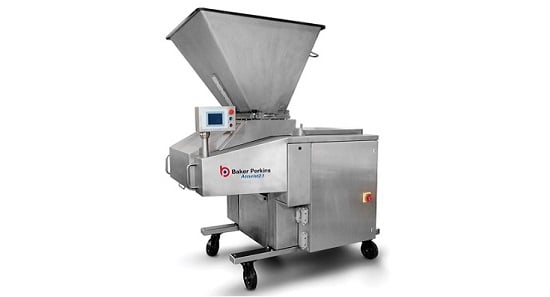 A new design of the short hopper and updated top box on Baker Perkins Accurist™ dough dividers significantly reduces long-term cost of ownership across the range.
It is included as standard on all new Accurist2.1™, 5000 and 9000 machines and available as an in-service upgrade to existing units. View all of our commercial bakery machines.
Accurist™ dividers are valued by bakers for their ability to maintain scaling-weight accuracy of just 2.5 to 3.5g Standard Deviation on 900g dough pieces for 10,000 hours with no parts being replaced.
After this, the internal short hopper usually needs recoating: this previously involved lengthy downtime and a visit by a Baker Perkins service engineer to remove and replace the one-piece top box, faceplate and short hopper.
This has been replaced by three separate parts, allowing the short hopper to be changed easily and rapidly with another pre-coated hopper, enabling the divider to get straight back into production – the faceplate and top box do not have to be removed.
A standardised short hopper design across the Accurist™ range means a reduced short hopper stock holding for sites with multiple divider designs.
As well as quicker and easier maintenance, the separate faceplate does not require machining, preventing air leaks that can affect scaling on the dough. A separate faceplate also eliminates the need for re-machining of the top box and short hopper after a recoat.
Baker Perkins' Accurist™ dough dividers
High accuracy, reliability and low cost of ownership are qualities shared by all Baker Perkins dough dividers.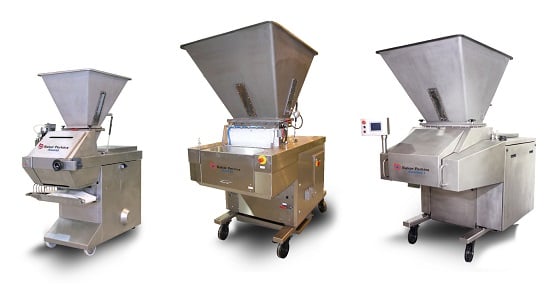 The Accurist2.1™ washdown dough divider uses servo control to achieve the optimum balance between accuracy and quality, even at high output. Cell structure is preserved by gentle dough handling. Efficient lubrication and low-wear components sustain the accuracy for thousands of hours and a washdown capability contributes to hygiene and easy cleaning.
Servo control preserves cell structure by minimizing shear, compression and ram movement. Quality benefits include up to 15% increase in cell count, up to 20% increase in softness, greater volume, improved crumb structure and better colour.
The Accurist™ 5000 and 9000 are durable, easy to operate and easy to maintain. There is a wide range of piece-weight and output combinations, covering applications as diverse as small breads and pizza bases up to large loaves.
There is simple access to all parts requiring regular cleaning is and there are no inaccessible areas. Minimal build-up of hard dough extends cleaning intervals and makes cleaning easier and faster.