Baker Perkins has introduced new extrusion sheeting technology to produce snack crackers and other products that are cut from a sheet of dough before being baked or fried.
Extrusion sheeting uses a twin-screw extruder with an innovative wide-slot die to produce a thin sheet of dough directly feeding a rotary cutter.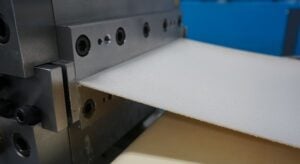 The products are the same as those produced on a conventional dough sheeting line but the equipment is considerably simpler and more flexible.
Extrusion sheeting instead of conventional mixing, sheeting and gauging reduces both the capital investment needed for a snack cracker line and the floor space required. The lines are simple to operate and, having fewer units, give significant reductions in cleaning time and maintenance costs.
The system is suitable for any type of baked or fried snack that is cut from a sheet of dough. Wheat and maize are the most common ingredients, but many types of flour can be processed, either on their own or as part of a blend.
The process supports dedicated lines running at high output, and the low cost and flexibility of the line also makes the production of small batches of snack crackers economically viable. The extruder can be quickly and easily switched to make other snacks such as direct expanded curls and balls, or co-extruded filled pillows, bars and wafers.
Quickly Meet Current Trends
High-protein or high fibre products can be easily made. Current trends in snack markets are the emergence of these products aimed at consumers wishing to maintain a balanced diet while 'grazing' or eating on-the-go: twin-screw extrusion is an easy way of incorporating these ingredients into snacks.
The format appeals to adult consumers concerned with health, especially when baked due to a lower fat content, with more sophisticated flavours and enhanced appearance.
The other trend is 'free-from' – nuts, wheat, dairy, GMO, etc. For manufacturers intending to make products for this market, extrusion provides the flexibility to make a wide variety of different products in small batches from alternative ingredients.
Compared with the sheeting plants typically used in the cracker and biscuit industries, this system replaces the mixer, dough feed, sheeter and gauge rolls. The extruded dough sheet is produced on a Baker Perkins SBX Master™ twin-screw extruder, and cut into regular, interlocking shapes, including fish and animals, by an in-line rotary cutter – a standard unit widely used in the biscuit and cracker sectors.
Manufacturers new to extrusion or wishing to investigate extrusion sheeting technology can take advantage of the test and development facilities in one of Baker Perkins' fully equipped extrusion laboratories in the USA and UK to develop new products.
Baker Perkins' SBX Master™ twin-screw extruders are available with outputs varying from 500kg to 1,500kg per hour. Existing extruders can be adapted to accept the new sheeting dies.