The success of our apprenticeship programme depends on multiple factors – our training partners, the schools and colleges we work with, the work of HR and our Apprenticeship Co-ordinator, the apprentices themselves, and last but not least, our mentors.
They provide our apprentices with invaluable support, drawing on all their years' experience, and many of them find it hugely rewarding alongside their day-to-day role.
At Baker Perkins we are lucky to have two of the very best mentors for our young engineers in Brian Childs and Nigel Wilkinson. Here they share more on their careers and their personal experiences of mentoring.
Brian Childs, Milling Machine Operator
Brian is now in his second stint at Baker Perkins, with his career in engineering and Baker Perkins starting simultaneously back in 1972. He's mentored for a total of over 42 years, spending 20 years as an Engineering Training Instructor at Vogal Training after his initial time here, before we were lucky to secure his services again back in 2020.
He re-joined us as a Milling Machine Operator and has been mentoring our apprentices at the same time.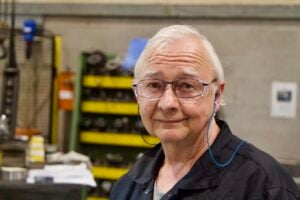 "For as long as I can remember, I've been teaching the next generation of engineers, whether here at Baker Perkins or at Vogal Training.
Being involved with apprentices at a young age and watching them mature into skilled young people and progress with their lives makes mentoring a very worthwhile job to me. Most of the apprentices at Baker Perkins will spend some time with me, with the Milling ones spending longer as they work towards their qualification.
For all the highs, there are also challenges along the way, and how we pick the apprentices up when they're down is another important part of our role. If you find someone sitting with their head in his hands, you must be wise to their views and feelings. It's about taking the time to discuss things – normally along the lines of it not being the end of the world – and from there progress to carrying on and making further progress; in short, showing the apprentice that although the path can be a bit bumpy, everything can be achievable.
I've lost count on the apprentices I have mentored and instructed but giving them an enjoyable experience and passing on my skills, which they then can turn into wisdom and use to progress their engineering careers, is what inspires me and makes what I do rewarding".
Nigel Wilkinson, Machine Shop & Apprentice Co-ordinator
Like Brian, Nigel's career as Baker Perkins has been punctuated by a spell away from the business. Joining us in 1978 as a CNC Machinist, he spent 30 years with us before departing to be an Engineering Assessor and Tutor at Northampton College and West Anglia Training Association. He's been mentoring apprentices since his return to us 4 years ago as a Section Leader in the Machine Shop, officially becoming Apprentice Co-ordinator in 2020.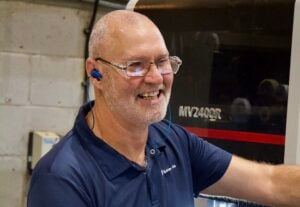 "When I first went from Baker Perkins to Northampton College as an assessor, I spent 9 years looking after the NVQ side of apprenticeships in various companies. From there I was offered the chance to teach full-time and that's when Baker Perkins started sending their apprentices to me, firstly for their Level 2 PEO and then onto their Level 3.
Engineering had given me a good career and when the chance came up to come back to Baker Perkins, I saw this mentoring opportunity as a way to give something back and pass on the skills and knowledge I've gained onto the next generation of engineers.
Working with Sarah Worsley in the HR team, my role is to ensure that the apprentices are getting the correct training both at college and here and dealing with issues when this doesn't happen. With my instructor background, I can also help the apprentices with their college work – I understand the qualifications and have a vast amount of material to help them.
Typically, the types of apprentices I work with are Mechanical biased in machining, fitting and maintenance but can and do assist with the Technical apprentices in the offices when required. It's a diverse role – I've worked with apprentices that are 16-year-old school leavers to more mature ones, with some having disabilities that require additional help – and I hold weekly meetings to ensure they are all happy and getting what they need, providing the required support where needed.
Seeing the help and work you've put into the apprentices to achieve their qualification, especially those that struggle a bit, and the relief/satisfaction on their faces that goes with it, are what makes mentoring so worthwhile."
Many of our apprentices, past and present, will vouch for the huge contribution their mentors made to their learning and development journeys. Mentors make lasting impressions on people, inspiring others to follow a similar path, and we would encourage anyone joining us, or working for us at present, to express their interest in mentoring to the HR team.