Improving hygiene and minimising costs
New TruClean™ forming equipment for biscuits, crackers and cookies, designed to minimize costs and improve hygiene while maintaining outstanding levels of quality, was introduced by Baker Perkins at Interpack 2011 (Hall 4 Stand C17).
The TruClean™ system offers three levels of hygienic design, from which customers select the one most suitable for their own cleaning regime and cross-contamination risk.
Three TruClean™ machines were featured at Interpack, all showing how hygiene and cleaning have been improved while meeting or exceeding the standards of the previous generation machines for productivity, reliability and ease-of-use.
The new TruClean™ gauge roll and TruClean™ rotary cutter are part of high-output dough forming systems for crackers and hard sweet biscuits. The improved gauge rolls feature an arrangement of flanges, scrapers and take-off conveyors that reduce waste by fully supporting the dough sheet throughout. Positively-tracked cartridge take-off conveyors require no tracking adjustment and can be quickly removed from the machine for easy access and minimum downtime.
The TruClean™ rotary cutter introduces the convenience of rapid, tool-free die roll changes while a rapid bypass feature avoids problems from an imperfect dough sheet by enabling it to be diverted to the scrap lift at the touch of a button. Maintenance is reduced and cleaning simplified by using new technology to reduce the number of components and eliminate chains or belts.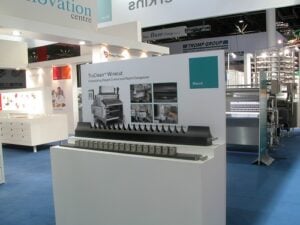 The TruClean™ wirecut is able to produce both cookies and high value bars. The unique die and filler block technology that provides this flexibility also delivers best-in-class weight control across both product ranges and includes a new sealing method that eliminates dough leakage. Maintenance of critical parts has been simplified to enable the high levels of output and accuracy to be sustained over the long term.
The TruClean™ hygienic design standard may be characterized as reducing any accumulation of unwanted materials; improving visibility and access for cleaning; and removal and replacement of components for cleaning without tools.
The three levels of hygiene enable customers to achieve the balance of hygiene and cost most appropriate for their operation: the prime objective is to eliminate cross contamination risk from allergens and pathogens but the same high standards are required when making Kosher, organic or GMO-free products.
Hygiene level one is designed for dry or wet cloth cleaning when there are no cross-contamination issues.
Level two is for low pressure wet or chemical cleaning if there is potential for cross-contamination onto food product surfaces, or in the product zone.
The third level is designed for high-pressure wet, steam or chemical cleaning when a high risk of cross contamination exists, particularly post-baking.