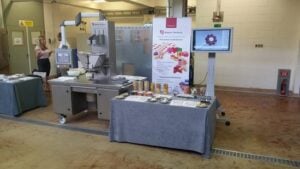 Visitors to the Food Innovation Day on September 18 at Leatherhead Food Research were able to see the versatile laboratory-scale depositor used in the Baker Perkins Innovation Centre.
Baker Perkins process engineers were on hand to explain how they use the depositor and its associated cooking equipment to develop new products for customers, and there was also an extensive display of hard and soft confectionery made using the machine.
Capability of the Baker Perkins ServoForm™ range of depositors includes hard candy; lollipops; and soft candies including jellies, gums, toffee, caramels and fondant. Sophisticated confectionery with features such as stripes, swirls, centre-fillings and layers can be made. There is full electronic control over production parameters including timings, speeds, phasings and deposit volume, with adjustment 'on the run'.
Both the depositor and cooking equipment in the Baker Perkins Innovation Centre replicate precisely the procedure of a full-size plant – results can be scaled up accurately for research, product development and test marketing purposes, with the minimum of time, effort and cost.
Customers with their own lab facilities can purchase a similar machine to develop products without costly use of industrial-scale plant, and to make small-scale runs for test marketing; ingredient and flavour suppliers invest in these machines for development purposes.
More information about Baker Perkins' laboratory scale depositor can be found at https://www.bakerperkins.com/confectionery/equipment/confectionery-depositing/experimental-depositors/
From the Leatherhead Food Innovation Day website:
Technology developments are impacting in all areas of the food and beverage industry. New and more functional ingredients are coming on to the market, along with processing developments to improve the efficiency of manufacturing. The days of long production runs have gone with the increased requirement for tailored solutions for groups of consumers and the continual need for reformulation. The analysis of foods and beverages is developing too with emerging methodologies and equipment changing the way we demonstrate compliance with the regulatory and consumer requirements. And finally the continuing need for improved product quality is driving developments in preservation technologies for milder processing.
Leatherhead's Food Innovation Day 2014 will highlight some areas of exciting technology developments that are attracting interest in the food and beverage industry. Included are case studies in novel ingredients, product characterisation methodologies, and manufacturing for improved efficiency. The day will again be split into a morning session with presentations and an afternoon session of interactive demonstrations. The presentations will be delivered by representatives from organisations that have a reputation for leading on technology innovation, including an update on one of Leatherhead's member-funded research projects. The interactive demonstrations will include new products and equipment that deliver on the technology agenda.
Full details of the day can be found at http://www.leatherheadfood.com/food-innovation-day