Baker Perkins has completed upgrading its range of sheet forming and cutting lines for hard sweet biscuits and crackers to TruClean™ standards, bringing major benefits in maintenance and hygiene, with lower costs and faster changeovers.
Time for a typical cleaning routine for a line can be reduced by up to 40%.
These Baker Perkins lines comprise either a 3-roll sheeter or a laminator to take a bulk feed of dough and form it into a sheet, ready to pass through gauge rolls which achieve the chosen thickness, and then a rotary cutter before baking.
The TruClean™ Standa rd
The TruClean™ approach to hygienic design was instigated to meet a clear demand from the industry for higher standards. It involved radical re-design of machinery in order to reduce the need for maintenance, and make access much easier where it is needed.

Improving visibility and access for cleaning, simplifying removal and replacement of components and assemblies, cutting the number of components, and reducing accumulation of debris were the principal design requirements – all achieved without compromising fundamental process performance parameters and attributes such as output and weight control.
The key benefit is a significant reduction of the time required to clean a line, leading to lower costs and faster changeovers.

This is based on the absence of guards and some mechanisms that would otherwise need opening and cleaning; and a reduction in the time needed both to gain access to areas of the machines for cleaning, and to clean more streamlined components.
Allergen-Level Cleaning
At the same time, it is now possible to clean a line more thoroughly than was possible before. Allergen-level cleaning is possible between product runs, a requirement on which an increasing number of companies now insist. When necessary, risk to consumers from cross-contamination can be eliminated more quickly.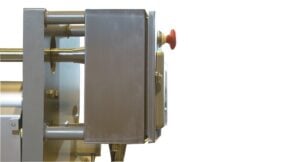 Better access has been achieved because there are far fewer covers to open, and those that remain are quick-access lift-up with a safety switch; general construction is more open; hygienic feet replace frames to the floor; and adjustment mechanisms are on the outside of the frames.

There are now quick-release lift out rollers in web circuits and scrapers in all the units; plus rapid-release removable cartridge conveyors.
The Sheet and Cut Process
Baker Perkins is a world leader in the supply of automated production lines for the production of hard sweet biscuits and crackers. The sheet and cut process is traditionally used on hard and semi-sweet products such as Marie and Petit Beurre biscuits, while laminating gives a light, flaky, crisp texture to crackers which cannot be achieved in any other way.
Uniquely, Baker Perkins offers a combination laminator which can produce full ranges of sheeted or laminated biscuits and crackers. It is cost-effective and simple compared with conventional multi-purpose plants requiring separate machines.