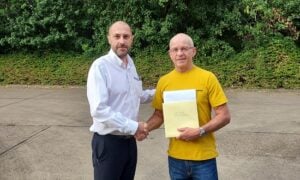 With nearly 46 years' service under his belt, today we say goodbye to Stuart Taylor, who clocks off as our third longest standing employee.
Joining us back on 6 September 1976, Stuart went through our Apprentice School before opting to finish his apprentice and qualify as a fitter. He became a mainstay of the Bakery section, sometimes working in the Biscuit section, and during this time he developed a taste for field engineering. Although he remained factory-based, he installed, maintained and repaired customers' machines across Europe, Scandinavia and the States.
He had a brief interlude from building bread and biscuit dough mixers, working for four years on a project for an American client building machines that made disposable nappies. From there he came back into the fitting shop, before taking up his final role with us a Team Leader in the Spares & Service Department six years ago.
Here his team, and the wider business, including apprentices, have benefitted from his extensive knowledge and experience of our products. As the last of his apprentice intake with unbroken service to leave us, we are truly indebted to his contribution over the years.
"It's incredible these days to see so much commitment to one company. Stuart's experience and knowledge as a Team Leader in Assembly will be greatly missed and everyone at Baker Perkins thanks Stuart for his hard work and dedication. We wish him a long and enjoyable retirement."
Alastair Stratford, Manufacturing Manager
Never one to sit still for too long, Stuart plans to continue running and cycling, as well as walking and climbing with his wife.