Significant control and operational developments to Baker Perkins' range of MP twin-screw extruders were introduced at the European Coatings Show in Nuremberg's Messezentrum in April (Hall 5, Stand 213). These extruders are designed for applications from small batch to continuous production at outputs up to 2,900 kg/hour over a wide range of formulations. A MP24PC INTEGRA extrusion system for small batch applications was on display at the show.
New control system for increased efficiency
A new and upgraded control system has been developed for the complete range of MP extruders. The operator interface is a touch-screen HMI providing clear, at-a-glance visualisation of the process, including current status of all major components and parameters. Alarm management means that the operator can immediately identify and locate problems.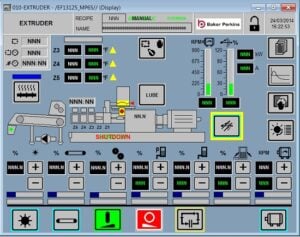 Automatic management of recipe settings ensures exact, unvarying replication of product, eliminating quality variations caused by operator error. Start and shutdown sequencing cuts waste at the beginning and end of each run: production does not start until the machine has warmed up, and the extruder does not shut down until product is completely ejected from the barrel. This also avoids the necessity of cleaning out product that has solidified in the barrel.
Data trending/logging, and network connection for data acquisition support improved short- and long-term efficiency and improvement programmes.
A worldwide support network includes fully configurable software packages and interchangeable components across the full range of machines for spares commonality.
Gearbox condition monitoring cuts downtime
A gearbox condition monitoring service that reduces unexpected downtime is available on new MP extruders and may also be retrofitted to existing machines.
This simple, low-cost system continuously monitors the frequency and amplitude of vibrations within the gearbox, allowing the ongoing condition of vital components to be measured. The principal benefit is elimination of unforeseen loss of production because of gearbox repair or replacement: maintenance scheduling is significantly enhanced.
Green, amber or red signals indicate that the gearbox is operating within limits; requires inspection or maintenance; or needs urgent attention. The easy-to-understand self-monitoring system is pre-calibrated for Baker Perkins extruder gearboxes, with transition points benchmarked and highlighted immediately on the 'traffic light' system.
Additional features include full reporting for in-depth data analysis and retention of data for three-years, with historical trend analysis allowing the creation of an ongoing preventative maintenance schedule. The system will also measure downtime, producing data which allows improved product scheduling by analyzing how the extruder is utilised. Analysis will reveal trends which may show, for example, that a particular product repeatedly causes the machine to stop; or that too many small batches are being scheduled.
The system may be integrated into the PLC control system of new machines, or installed as a stand-alone system on existing machines.