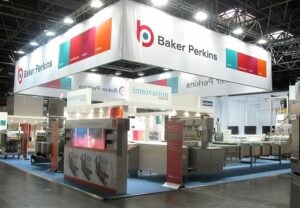 Baker Perkins presented new, high performance processing equipment for confectionery, biscuit and snack sectors at Interpack 2011 (Hall 4 stand C17). New, creative end product opportunities were also showcased in an Innovation Centre.
Confectionery cooking and depositing developments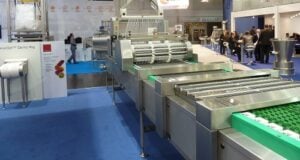 A new generation of the ServoForm™ confectionery depositor range with automatic cleaning, easier operation and reduced maintenance was launched. ServoForm™ depositors are the recognized market leader for the production of hard candy and lollipops, and are widely used for soft candies, toffees, caramels and jellies.
A fast, automatic cleaning cycle replaces time consuming manual cleaning: washout trays are placed and withdrawn automatically and the washing and flushing cycle is pre-programmed and carried out with no operator intervention.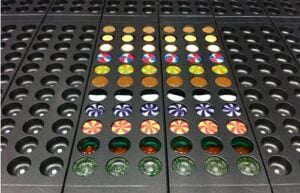 Cleaning and maintenance have been further reduced by replacing the mechanical transmission for movement of the head and depositing pumps with servo-controlled electric rod actuators. The infinitely variable motion control these provide enables an optimized movement profile to be created and then stored using the touch screen HMI.
Start-up time has been reduced by the introduction of on-the-run adjustment for mould lift under the depositor head. This adjustment helps to minimize tailing and waste and previously required the machine to be stopped.
The new generation ServoForm™ range is modular, with each variant comprising one or more depositor heads, product specific mould sets, a cooling tunnel and – for lollipops – a stick placer.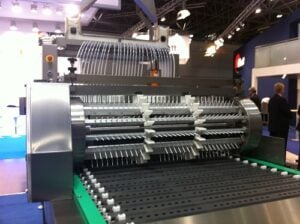 New energy saving features enhancing the efficiency of the Microfilm™ confectionery cooker was also introduced. These new features reduce energy consumption by reclaiming heat from the process that would otherwise be wasted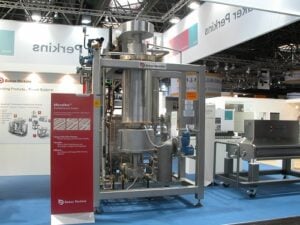 The first method captures flash vapour released by the product between the pre- and final-cook stages and normally vented to atmosphere. In the new system it is passed through a heat exchanger to heat water that can be used in hot water systems or process applications.
The second method uses the high temperature condensate from the steam heating system for the Microfilm™ tube to generate flash steam that is used in the syrup pre-cooker. This lowers the steam requirement for the Microfilm™ cooker and reduces energy losses from the condensate as it returns to the boiler.
These environmentally friendly features are available as options, as is the existing indirect condenser, which minimizes waste of cooling water.
New range of biscuit forming equipment
New TruClean™ forming equipment for biscuits, crackers and cookies, designed to minimize costs and improve hygiene while maintaining outstanding levels of quality, was also introduced. The TruClean™ system offers three levels of hygienic design, from which customers select the one most suitable for their own cleaning regime and cross-contamination risk.
Three TruClean™ machines were featured at Interpack, all showing how hygiene and cleaning have been improved while meeting or exceeding the standards of the previous generation machines for productivity, reliability and ease-of-use.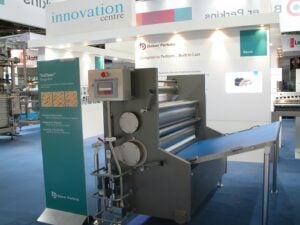 The new TruClean™ gauge roll and TruClean™ rotary cutter are part of high-output dough forming systems for crackers and hard sweet biscuits. The improved gauge rolls feature an arrangement of flanges, scrapers and take-off conveyors that reduce waste by fully supporting the dough sheet throughout. Positively-tracked cartridge take-off conveyors require no tracking adjustment and can be quickly removed from the machine for easy access and minimum downtime.
The TruClean™ rotary cutter introduces the convenience of rapid, tool-free die roll changes while a rapid bypass feature avoids problems from an imperfect dough sheet by enabling it to be diverted to the scrap lift at the touch of a button. Maintenance is reduced and cleaning simplified by using new technology to reduce the number of components and eliminate chains or belts
The TruClean™ wirecut is able to produce both cookies and high value bars. The unique die and filler block technology that provides this flexibility also delivers best-in-class weight control across both product ranges and includes a new sealing method that eliminates dough leakage.
New post-extrusion forming techniques increase snack product versatility
Three new enhancements to the Baker Perkins Snack Master™ extrusion system were highlighted. Also exhibited was a healthy new way of processing snack pellets.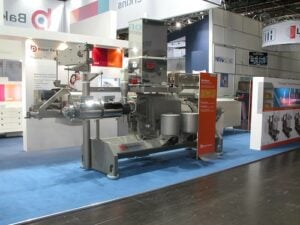 The Snack Master™ system comprises the versatile SBX Master™ extruder and a range of post-extrusion forming equipment. The range was represented on the Interpack stand by an SBX Master™ extruder with a co-extrusion die, a coathanger die, and a pillow crimper.
The three new additions to the range are forming options that demonstrate the system's ability to make a wide range of different snacks, from direct expanded types through to higher added-value products with sophisticated taste and texture combinations.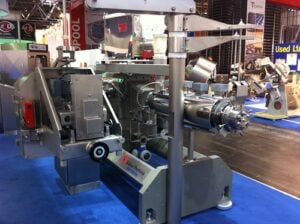 The first is a new adjustable face cutter for direct expanded products that offers easy blade changes in 15 minutes, without stopping production, plus fine adjustment of the cutter blade to enable the optimum position for clean cutting and minimum blade wear to be quickly achieved.
The second new addition is a process for making a completely new range of extruded products using an innovative die that produces a thin, wide sheet of dough that is cut into regular, geometric shapes by an in-line rotary cutter. The shapes may be fried as a conventional snack, or oven baked for snacks with lower fat contents.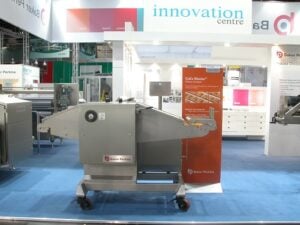 The final enhancement is a pillow crimper for the CoEx Master™ co-extrusion range. Co-extrusion systems incorporate fillings with contrasting textures and colours into a cereal outer to create high added-value products. The pillow crimper forms filled tubes from the extruder into individual pillows, tubes, bars or wafers.
A new process highlighted at Interpack was continuous puffing of pellet snacks using hot air. Based on the proven Thermoglide2™ Toaster, the new snack puffing system replaces frying as a means of converting pellets into a finished snack. No oil is absorbed during the expansion process, unlike frying, and only the minimum amounts required for flavour need be added afterwards.
Flexibility is at the heart of the Baker Perkins Snack Master™ expandable line concept. This approach to plant design enables a standard Snack Master™ line used to make direct expanded products such as corn curls, chipsticks, and maize rings, to be extended in stages to produce a wider range of added-value products, including whole grain / multigrain and sweet or savoury filled pillows.
On-Booth Innovation Centre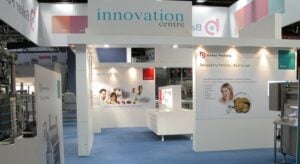 An Innovation Centre on the Interpack stand featured the latest end product developments. Customers were invited to come and discuss product ideas with Baker Perkins food technologists.