Baker Perkins highlighted its process innovation capability and production expertise for the confectionery, snack and cereal industries at the ALLPack Indonesia exhibition in Jakarta.
Baker Perkins was represented on the stand of our agent, Rieckermann (www.rieckermann.com).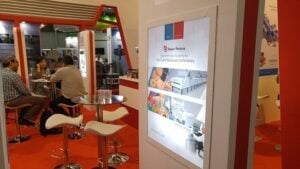 Confectionery
In the confectionery industry, depositors are used extensively for hard candies, lollipops, toffees, caramels, fudge and fondant. High output and high efficiency with low production costs and hygienic operation are the main benefits that depositing brings to these sectors compared to conventional methods such as die forming, starch mogul or cut-and-wrap.
Jellies are a growth product in Asian markets, particularly 3D shaped products. There is also a rapidly developing market for functional jellies carrying essential nutrients such as vitamins, minerals, fibre and protein or beneficial supplements such as folic acid and Omega-3.
Depositing into solid moulds produces single-, multi-coloured or filled jellies with excellent dimensional and weight accuracy as well as a smooth surface finish. Minimal waste, automatic operation, and easy maintenance keep operating costs very low while the hygienic design and rapid cleaning ensure that the highest standards of food safety can be met.
Breakfast Cereal & Snack
Twin-screw extrusion technology is at the heart of versatile systems producing a wide range of high-quality snacks and ready-to-eat cereals. A standard system is a flexible way to enter a market at a low capital cost; extrusion systems can be expanded as a business grows and more complex products, or even a completely different product range, are required.
Standard systems produce direct expanded, shaped products. Adding co-extrusion capacity increases the scope for innovative product development; this technique involves extruding a hollow tube of cereal while simultaneously injecting a low-moisture cream or paste filling into the centre.
The flexibility of the extrusion process has created a widening catalogue of products. In the snack sector the variety includes shaped, filled, premium and healthy possibilities. Every kind of traditional breakfast cereal can be produced, included flaked and shredded varieties.
Granola is a product attracting increasing attention, and Baker Perkins offers a range of equipment for the production of cereal clusters and baked granola bars. Both products are made by mixing, forming and baking a continuous sheet that is kibbled into clusters for breakfast cereal, or slit and guillotined for bars.