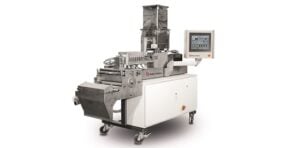 Baker Perkins is introducing an upgraded MP24PC INTEGRA extrusion system for small batch applications. Key features are a new control system, and a new screw geometry along with careful consideration of the screw profile that increase the capacity to process lightweight materials such as fines by up to 30%.
The 24mm INTEGRA integrates feeding, twin-screw extruding, cooling and flaking into a single, portable unit which is ideal for small batch production, colour matching, and new product development in the laboratory. A wide range of formulations including powder coating, toners and electronic moulding compounds (EMC) can be processed
The flexible INTEGRA machine meets the growing demand for a rapid-response system capable of fulfilling batch production needs with simple, rapid product changeover. The unit can be re-configured, without the need for tools, to enable production of colour matching samples that can be consistently reproduced, first time, on high-output production machines.
For many companies, the ability to easily re-cycle fines means extra profit with no downside: currently some companies simply discard fines, others incur the cost of re-processing at lower throughputs. Depending on the efficiency of the grinding system, fines can constitute up to 30% of output making the 24mm MP24 ideal for this purpose. Re-cycling does not affect the properties of the powder coating so the ability to reprocess them leads to a significant increase in profitability.
The new state-of-the-art system control system features a touch-screen HMI providing operators with a clear, at-a-glance visualisation of the process, including current status of all major components and parameters.
Baker Perkins has introduced automatic management of recipe settings to ensure exact, unvarying replication of product, eliminating quality variations caused by operator error. Start and shutdown sequencing cuts waste at the beginning and end of each run: production does not start until the machine has warmed up, and the extruder does not shut down until product is completely ejected from the barrel. There is no need to clean out product that has solidified in the barrel.
Data trending/logging incorporates a new application for the Baker Perkins gearbox condition monitoring system, which now also measures downtime to produce data analysing how the extruder is utilised: the principal benefit is improved product scheduling.
Network connection for data acquisition support improves short- and long-term efficiency and improvement programmes. Alarm management means that the operator can immediately identify and locate a problem.