An updated and extended range of hygienic rotary moulders was introduced by Baker Perkins at IBIE 2013.
The new 390 range comprises both standard and TruClean™ variants with the most hygienic, TruClean™ Level 2, being displayed on the booth. Also on the booth was a hygienic gauge roll from the new TruClean™ sheet forming and cutting range.
The 390 rotary moulder is the latest in a series of machines that have been the industry standard for over 40 years. The new generation 390 range has been re-designed to combine easy operation with simplicity of mechanical design, and to meet the latest industry standards for hygiene.
It maintains Baker Perkins' strong reputation for efficiency, reliability and low cost-of-ownership. Operator adjustments have been kept to a minimum and are simple and intuitive to use. Only the key parameters of machine speed, forcing gap, rubber roll pressure and web tension need be adjusted. For customers requiring more sophisticated controls an upgraded system with PLC and HMI is an option.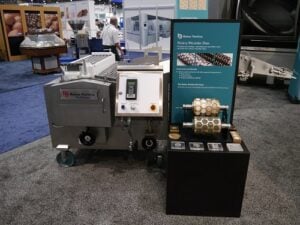 The hygiene aspects of the redesign were based on three principles: minimizing debris accumulation, improving cleaning and simplifying removal and replacement of components. This reduces cleaning, changeover downtime and running costs as well as providing a secure environment for food production. Die roll changes and belt replacement can be accomplished rapidly and without the use of tools.
The 390 rotary moulders can be easily wheeled in and out of a production line. This maximizes flexibility – it can, for example, be replaced by a wirecut in facilities making a wide variety of products. The machine is available in 39-inch and 48-inch widths (1,000 and 1,200mm)
The same levels of performance, simple operation and low production costs are available with enhanced hygiene features in the TruClean™ 390 while for customers requiring high output or maximum adjustability Baker Perkins also offers the Series 2 rotary moulder.
TruClean™ Gauge Roll
Also shown at IBIE, and new to the North American market, was the TruClean™ gauge roll, a component in high-output dough forming systems for crackers and hard sweet biscuits.
The improved gauge roll features an arrangement of flanges, scrapers and take-off conveyors that reduce waste by fully supporting the dough sheet throughout.
Positively-tracked cartridge take-off conveyors require no tracking adjustment and can be quickly removed from the machine for easy access and minimum downtime. TruClean™ sheet forming and cutting machines are available in widths up to 63 inches (1,600mm)