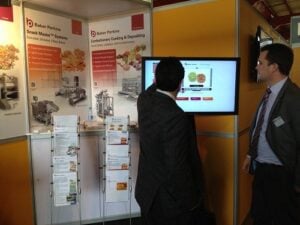 Highlighting process and product innovation
Baker Perkins focused on the potential of the depositing process to make innovative, high-quality deposited hard candy, soft confectionery and lollipops at Propak Africa in Johannesburg from March 12 to 15, 2013 (Courlanders Agencies stand J12/K7).
Depositing technology has the ability to produce confectionery with more visual appeal and better eating characteristics than older processes. Compared with these, deposited candies and lollipops have a glossier surface, a smoother 'mouth feel', and more vibrant colours. A wide range of variants is easier to achieve.
As well as product variety, consistent high-quality and low cost of production are reasons why depositing is chosen ahead of conventional methods. The nature of the depositing process creates great flexibility and process control. Dimensional, shape and weight accuracy are extremely high; fillings are accurately positioned in the centre; and scrap rates are minimal.
Operational costs are lower than traditional processes. Set-up is quick and easy using a simple touch-screen interface with recipe-driven change management and, once running, the process requires very little operator intervention. An automatic wash cycle and hygienic design features minimize cleaning and changeover times for greater line efficiency.
As well as bal lollipops the latest ServoForm™ lollipop technology has the potential to generate an array of innovative high-quality flat lollipops. For the first time, interesting shapes, such as flowers and hearts, as well as the colours and patterns in the candy, can enhance the visual appeal. Embossing the surface is another new way of increasing the interest and variety of round or shaped lollipops.
A multi-headed depositing system is used for 'long term' three-layered hard candies with a genuine 'sandwich' appearance. 'Long term' layering involves a dwell time between each deposit, allowing the first level to partially set before the next one is deposited. This clear separation gives a true 'layered' effect, with different colours, textures and flavours: the most striking application is a sandwich of crystallized Xylitol between two layers of sugar-free hard candy.
Centre-filled toffees, fondants and fudges are just some of the high value products that can be made on the new ServoForm™ Soft Confectionery depositor. Soft centres such as jam, cream, jelly, chocolate, praline and fruit paste can all be one-shot deposited to add value and variety to a product range.
Another innovation is a high added-value toffee cup, complete with filling and topping or inclusion. These indulgence products require a multi-headed depositor. The first head deposits a toffee cup, the second a filling – fondant, praline, chocolate, jam and jelly are among the possibilities. A third head can add a topping such as chocolate, or inclusions including nut or fruit pieces.