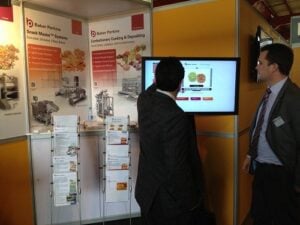 Highlighting process and product innovation
Baker Perkins highlighted its process and product innovation capability for the confectionery, snack, cereal and biscuit industries at Propak Africa in Johannesburg from March 12 to 15, 2013 (Courlanders Agencies stand J12/K7).
Production lines supplied by Baker Perkins are at work around the world making thousands of consumer favourites including hard and soft confectionery, lollipops, extruded snacks, biscuits, cookies, crackers and breakfast cereals.
Working with customer on new product developments is a particular speciality with extensive lab facilities and the ability to combine technologies from different industry sectors opening up many exciting opportunities.
Confectionery
Baker Perkins focused on the potential of the depositing process to make innovative, high-quality hard candy, soft confectionery and lollipops.
Depositing systems produce multi-colour, multi-component pieces in one, two, three and four colours; in stripes, layers and random patterns; with one or two hard or soft centre-fills. That applies to hard candy, lollipops, gums and jellies, toffee and caramels and soft candy. With the vast array of confectionery flavours, colours and other ingredients added to the mix there is virtually unlimited product variety available.
Depositing technology has the ability to produce confectionery with more visual appeal and better eating characteristics than older processes. Compared with these, deposited candies and lollipops have a glossier surface, a smoother 'mouth feel', and more vibrant colours. A wide range of variants is easier to achieve.
As well as product variety, consistent high-quality and low cost of production are reasons why depositing is chosen ahead of conventional methods. The nature of the depositing process creates great flexibility and process control. Dimensional, shape and weight accuracy are extremely high; fillings are accurately positioned in the centre; and scrap rates are minimal.
Operational costs are lower than traditional processes. Set-up is quick and easy using a simple touch-screen interface with recipe-driven change management and, once running, the process requires very little operator intervention. An automatic wash cycle and hygienic design features minimize cleaning and changeover times for greater line efficiency.
As well as bal lollipops the latest ServoForm™ lollipop technology has the potential to generate an array of innovative high-quality flat lollipops. For the first time, interesting shapes, such as flowers and hearts, as well as the colours and patterns in the candy, can enhance the visual appeal. Embossing the surface is another new way of increasing the interest and variety of round or shaped lollipops.
A multi-headed depositing system is used for 'long term' three-layered hard candies with a genuine 'sandwich' appearance. 'Long term' layering involves a dwell time between each deposit, allowing the first level to partially set before the next one is deposited. This clear separation gives a true 'layered' effect, with different colours, textures and flavours: the most striking application is a sandwich of crystallized Xylitol between two layers of sugar-free hard candy.
Centre-filled toffees, fondants and fudges are just some of the high value products that can be made on the new ServoForm™ Soft Confectionery depositor. Soft centres such as jam, cream, jelly, chocolate, praline and fruit paste can all be one-shot deposited to add value and variety to a product range.
Another innovation is a high added-value toffee cup, complete with filling and topping or inclusion. These indulgence products require a multi-headed depositor. The first head deposits a toffee cup, the second a filling – fondant, praline, chocolate, jam and jelly are among the possibilities. A third head can add a topping such as chocolate, or inclusions including nut or fruit pieces.
Snack
Baker Perkins highlighted its ability to provide flexible systems and fresh product ideas for the snack industry.
The modular Snack Master™ concept enables companies to enter the market with an uncomplicated extrusion system making standard, direct expanded snacks such as corn curls, chipsticks and maize rings.
As business expands, the line may be extended in stages to broaden the range of products that can be made. Sophisticated textures, from crunchy croutons or crispy baked snacks, add value to the product range while co-extruded pillows sticks and wafers bring new dimensions in flavour and texture.
As the snack market continues to develop more attention is being paid to reducing fat and salt content and also making snacks from a wider range of ingredients than the traditional potato and corn. Vegetables, pulses whole grains and multi-grains are all beginning to feature in snacks and the flexibility of extrusion makes it ideal for processing these ingredients to create interesting snack textures without the need for frying.
Another original process is continuous puffing of pellet snacks using hot air. Based on the proven Thermoglide2™ Toaster, the new snack puffing system replaces frying as a means of converting pellets into a finished snack. No oil is absorbed during the expansion process, unlike frying, and only the minimum amounts required for flavour need to be added afterwards.
Cereal
Baker Perkins stressed its process and product innovation capability for the ready-to-eat cereal sector at Propak Africa. Systems for both extruded and traditionally cooked cereals are included in the Cereal Master™ portfolio.
Twin-screw cooker extrusion is a reliable and versatile process, and a range of post-extrusion forming techniques are available as part of the Cereal Master EX™ system to add value and variety. These may be purchased with the extruder or added at a later date as business needs and customer tastes change. For example, a line producing direct expanded cereals such as corn balls, multigrain rings and alphabet shapes can be extended in stages to make a range of higher added-value products with sophisticated taste and texture combinations.
Co-extrusion equipment, cereal cookers, flaking rolls, shredding lines, dryers and toasters are available enabling high added-value cereals such as flakes, filled pillows and multigrain products to be made from the same standard extruder. A coating system adding value through frosting or glazing is a further possibility.
The principle of expandable lines is also applied to traditional cereal processes in the Cereal Master TX™ system. Based on rotary steam-cooking and flaking of grains, the standard process can be extended to incorporate a wide variety of single and multigrain flake products with either a frosted or glazed coating.
Biscuit
Baker Perkins provides a complete processing capability for biscuits, cookies and crackers. The company has more than a century of know-how in the supply of systems to make every variety of biscuit, with equipment at work in over 80 countries around the world.
Baker Perkins is continuously looking for ways of improving performance while making the machines easier to operate, clean and maintain. Today's automatic plants harness the latest engineering and control technology to maximize performance while making machines more reliable and efficient, and easier to operate, maintain and clean.
Baker Perkins offers a range of best-in-class unit machines in each key technology of the biscuit making process.
HS mixers give thorough dispersion over full range of hard and soft dough. The forming machine range gives includes rotary moulders, rotary cutters and wirecuts. These machines are designed to meet all the latest industry guidelines on hygiene. Every detail is engineered to minimize debris accumulation and improve visibility and access to make thorough and effective cleaning as easy as possible. Components can be removed and replaced for cleaning without tools.
Ovens are available to meet every baking need, and added-value options include a choice of sandwiching system.