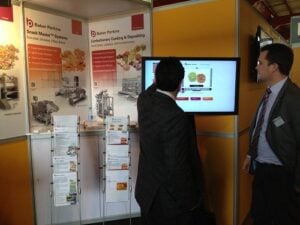 Highlighting process and product innovation
Baker Perkins stressed its process and product innovation capability for the ready-to-eat cereal sector at Propak Africa in Johannesburg from March 12 to 15, 2013 (Courlanders Agencies stand J12/K7).
Systems for both extruded and traditionally cooked cereals are included in the Cereal Master™ portfolio.
Twin-screw cooker extrusion is a reliable and versatile process, and a range of post-extrusion forming techniques are available as part of the Cereal Master EX™ system to add value and variety. These may be purchased with the extruder or added at a later date as business needs and customer tastes change. For example, a line producing direct expanded cereals such as corn balls, multigrain rings and alphabet shapes can be extended in stages to make a range of higher added-value products with sophisticated taste and texture combinations.
Co-extrusion equipment, flaking rolls, shredders, toasters and cereal cookers are available enabling high added value cereals such as flakes, filled pillows and multigrain products to be made from the same standard extruder. A coating system adding value through frosting or glazing is a further possibility.
The principle of expandable lines is also applied to traditional cereal processes in the Cereal Master TX™ system. Based on rotary steam-cooking and flaking of grains, the standard process can be extended to incorporate a wide variety of single and multigrain flake products with either a frosted or glazed coating.