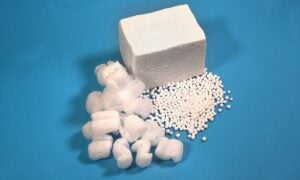 Loose fill chips and "peanuts" of expanded packaging are a familiar part of everyday life – and becoming more so as consumer shopping habits continue to migrate online.
But single use packaging is particularly vulnerable to censure as concern for the environment grows. Alternatives to polystyrene and plastic will become essential, perhaps even compulsory.
Baker Perkins offers proven twin-screw extrusion technology that can use biodegradable, starch-based substitutes for the manufacture of packaging materials. The extrusion process has been used for decades in handling starch based grains for the direct expansion of snacks and ready-to-eat cereals, and is an area where Baker Perkins has decades of expertise.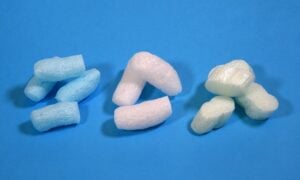 Extruding bio-materials into chips
Baker Perkins is highly regarded as a manufacturer of extruders for industrial applications such as the production of plastics. But although the biodegradable packaging product looks similar to plastic foam, when you scratch beneath the surface it is significantly different.
The process of mixing, hydrating, expanding, shaping and cutting bio-materials into chips actually has more in common with food extrusion than plastics or other industrial processes. Natural bio materials are not as consistent as synthetic plastics and the hydration process of the starch has no direct equivalent in plastics.
Baker Perkins' range of twin-screw extruders includes a 19mm benchtop machine for research labs, a 24mm unit for pilot plants and production extruders from 30mm up to 100mm.
Dies for chips, strips and sheets are available, along with the appropriate cutter, and are easily interchanged to allow a wide range of packaging types to be manufactured.
Develop your packaging in our Innovation Centres
The pressure to switch to biodegradable or sustainable packaging means that this is a fast-moving field, constantly being challenged to develop new products and to use a wider range of biomaterials, including recycled and by-products.
Baker Perkins' know-how is already available to achieve these goals. We operate Innovation Centres in the UK and USA, each with twin-screw extruders that are available for everything from simple demonstrations of current technology to new product development trials and experiments with new materials.