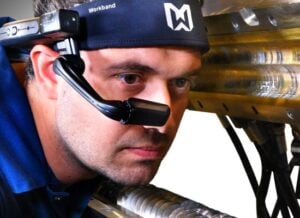 Baker Perkins continues to revolutionise the way equipment is commissioned and maintained at customers' sites. The latest step forward is the use of headsets which provide immediate connections between our engineers or customers' staff located anywhere in the world with experts at our Peterborough base.
Hands-free headsets with camera, microphone and screen can now be used for 2-way knowledge sharing and collaboration covering every aspect of the way work gets done in the field. It can put any kind of information in front of people doing the job.
Baker Perkins' engineers can contact colleagues or other knowledge resources to discuss out-of-the-ordinary problems; customers or contractors can contact us to solve production issues or be guided through a process or maintenance procedure.
The value of the technology is augmented by access to control systems via Ewon devices, and access to the Internet allows viewing or transmitting of relevant data in any format. MS Teams or other video-conferencing platforms permit virtual meetings of people in multiple locations.
Enabling work to continue
Despite the worldwide Covid travel disruption, in the past 12 months customers were able to view trials for a new product in the Innovation Centre at Peterborough, and factory acceptance tests (FAT) at Peterborough for a customer in the Asia-Pacific region were completed effectively.
Time and cost-saving are clearly principal benefits. Headset technology is an extension of Baker Perkins' existing capability to remotely commission and start-up new unit machines throughout the world. We can also log into a machine regardless of location and, providing there is access to the internet, carry out fault-finding and software updates.
Baker Perkins chooses headsets from RealWear Inc, the fast-growing US based specialists in purpose-built head-worn devices for industry.