Snack makers told us that they would like to access the growing market for these snacks, but that the conventional process – using sheeting, gauging and rotary cutting equipment familiar to the cracker and biscuit sectors – was far too expensive and inflexible to make other snack products.
Our answer was to adapt an existing process for ribbon products by opening up the die to produce a thin, wide sheet of dough that is then cut into regular, geometric shapes by an in-line rotary cutter. The shapes can be fried as a conventional snack, or oven baked for a lower fat content, and then flavoured.
This extrusion sheeting process is perfect for producing thin and crispy products with lots of crunch and fewer calories. High protein and high fibre ingredients, as well as whole grains, can easily be incorporated to address the trend towards more healthy and natural snacks.
The SBX Master™ is also ideal for creating products free from additives and allergens – such as gluten and dairy – because of the wide range of different processing options available.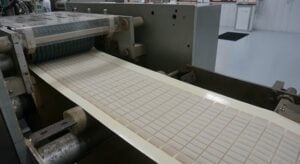 Extrusion sheeting is much more flexible than the conventional processes for cracker snacks; it is also very compact and much more cost-effective in terms of capital and running costs, making the system ideal for customers entering the snack industry for the first time.
It is not only the versatility of the dies and other post-extrusion forming processes that makes this system possible, but also the ability of the SBX Master™ itself to handle a wide variety of ingredients and process them with various time, temperature and shear profiles.
This flexibility enables manufacturers to introduce new products quickly, and adapt to new market opportunities.
An extrusion line may be configured to make a wide range of different snack products. A twin-screw extruder could make sheeted crackers in the morning, expanded snacks in the afternoon and co-extruded snacks the next morning, just by changing the process parameters and post-extrusion forming equipment.
For new entrants to the market, this flexibility provides assurance that equipment life will continue long after the initial product range is introduced. Established companies wishing to expand their product range will also find the extrusion sheeting process provides the flexibility they need.