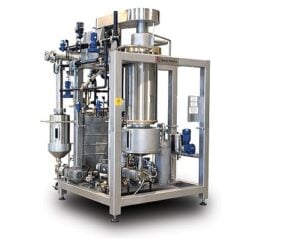 New energy saving technology enhancing the efficiency of the Baker Perkins Microfilm™ confectionery cooker has been introduced by Baker Perkins. Optional features reduce energy consumption by reclaiming process heat that would otherwise be wasted.
The Microfilm™ is an extremely versatile cooker that sits at the heart of many Baker Perkins AutoCook™ systems. The rapid, thin-film process is ideal for most types of sugar, low-sugar and sugar-free candies, including those with dairy components. The combination of a AutoCook™ Microfilm™ with a depositor dominates the hard candy sector, with more than 500 lines installed around the world.
The first new feature captures flash vapour released by the product between the pre- and final-cook stages and normally vented to atmosphere. In the new system it is passed through a heat exchanger to heat water for use in hot water systems or process applications.
The second method uses the high temperature condensate from the steam heating system for the Microfilm™ tube to generate flash steam that is used in the syrup pre-cooker. This lowers the overall steam requirement for the Microfilm™ cooker and reduces energy losses from the condensate as it returns to the boiler.
Compared with traditional cooking methods, the Microfilm™ delivers greater product variety, superior quality and higher operational efficiency. This is achieved by applying vacuum directly onto a thin, swept film during cooking resulting in very rapid cooking, with negligible process inversion or caramelisation.
These advantages are also seeing these cookers increasingly used for low boilings such as caramels, toffees, chews and fudges, high solids jellies and gums as well as hard candy and lollipops.
The Microfilm™ process is a key component in Baker Perkins' new AutoCook™ series of cooking systems. It is one of several proven cooking technologies which are backed by modular units configured to provide efficient, automatic cooking for a wide range of products and outputs. Cooking method depends on process and product requirements.
As well as the Microfilm™ the choice includes the Turbofilm™ plate pack cooking system ideal for jelly products; the Carablend™ for toffee and caramel; and a dedicated fondant cooker.