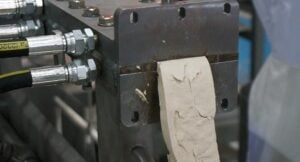 Baker Perkins has been awarded UK government funding for a project to further develop twin-screw extrusion capability to produce Texturised Vegetable Protein (TVP) as a meat substitute.
The award was won competitively as part of a £40 million government investment to drive forward new technological advances that will benefit the UK economy in the post COVID-19 recovery.
It comes from Innovate UK, which works with people, companies and partner organisations to find and drive the science and technology innovations that will grow the UK economy – delivering productivity, new jobs and exports.
The purpose of Baker Perkins' project is to develop new technology for the commercial production of meat substitutes using, for the first time, flour from locally available whole beans and pulses as the main ingredient, rather than expensive and highly processed pulse protein isolates. It will also investigate ways of achieving the desired range of textures using purely processing techniques or label-friendly ingredients, rather than additives.
Diversification of the UK's protein supply will strengthen the food supply chain and address both commercial and consumer concerns arising from COVID-19 about the dependence on food imports in the event of future pandemics or other international supply chain disruptions.
The project will extend Baker Perkins' existing capability for High Moisture Extrusion Cooking (HMEC) and Low Moisture Extrusion Cooking (LMEC) of TVP ingredients for ready meals.
TVP in various forms has been used as a meat substitute since the 1960s. It is also used as a meat extender in conjunction with real meat in products aimed at environmentally-concerned or health-conscious consumers. Most products currently being launched are completely meat-free for vegans and vegetarians, but there is significant acceleration in the market for extenders among consumers willing to cut down on meat for environmental or health reasons, but unwilling to compromise on taste and texture.
Keith Graham, Business Development Manager, says, "The UK food industry will benefit from this project by being able to respond to demand for environmentally-friendly and clean-label meat substitutes using ingredients that could be grown and/or processed in the UK. As the demand for these products is increasing worldwide, UK food processing and equipment companies will benefit from export opportunities."
Twin-screw extrusion is already widely used in the food industry. Baker Perkins equipment has been at the forefront of this technology for many years, including the TVP sector. We operate a fully equipped pilot-scale lab and are working on this project with UK ingredient supplier New Food Innovation. We also have access to food scientists through links with Sheffield Hallam University and Campden BRI.
"With the expertise, experience and resources these organisations are able to bring to bear over and above the Innovate UK funding, Baker Perkins expects to be able to develop solutions quickly and cost effectively. The potential benefit to the UK economy in growing and processing home-grown ingredients to supply a multimillion pound home and export market, plus technology exports, is many times the cost of the grant" says Keith Graham.\