A new twin-screw powder coating extruder at Asian Paints – India's market leading paints company – was commissioned and started-up remotely by Baker Perkins engineers based at Peterborough in the UK.
Baker Perkins has for some years logged in online to customers' machines throughout the world to provide software updates and fault-finding advice.
When international travel was impossible during the Covid lockdown, that ability was extended to commissioning.
Sarang Powar, Senior Manager Engineering at Asian Paints says, "Baker Perkins is a solution-oriented expert in extruders: Asian Paints PPG has been a longstanding customer of Baker Perkins. They have been an invaluable resource especially during the pandemic, when the MPX50 extruder was remotely commissioned seamlessly."
A video link allowed step-by-step guidance from a Baker Perkins' engineer in the UK to the customer's engineer on-site. Remote support is achieved through an Ewon Flexy gateway and Wi-Fi VPN connection fitted in the extruder control panel and providing remote access to the PLC.
The module was fitted in the UK, complete with an India-compatible SIM card, to enable the Baker Perkins commissioning engineer on site to be supported remotely by colleagues in the UK. When Covid struck, it was agreed that Baker Perkins UK would support a local engineer to carry out the commissioning.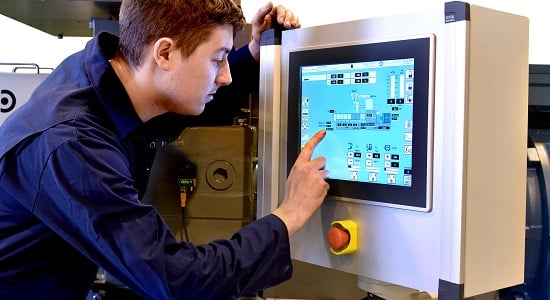 Mechanical and commissioning checklists supplied by Baker Perkins and followed by an Asian Paints engineer ensured the machine was ready for production. Baker Perkins then viewed the extruder remotely via the Ewon, and navigated the HMI screens to offer training on operation and functionality.
Asian Paints then went into production: the remote process did not extend the expected length of commissioning.
Most Baker Perkins unit machines can now be remotely commissioned; operator training may also be carried out online. Commissioning, start-up and training costs and time can all be significantly reduced as engineers do not have to leave Baker Perkins' office in the UK. The company is intending to widen the service to production systems.
Asian Paints Limited
Asian Paints Limited is an Indian multinational paint company headquartered in Mumbai, Maharashtra. The company manufactures and distributes paints and coatings for a variety of surfaces and applications, primarily for home decoration. Asian Paints is India's largest and Asia's third largest paints corporation. It is double the size of any other paint company in India.
The company has come a long way since its small beginnings in 1942. It was set up as a partnership firm by four friends who were willing to take on the world's biggest, most famous paint companies operating in India at that time. Over the course of 25 years, Asian Paints became a corporate force and India's leading paints company. Driven by its strong consumer focus and innovative spirit, the company has been the market leader in paints since 1967 and includes wall coverings and waterproof coatings as well as design and decorating services in its portfolio.
Read more: