It is not disputed that the depositing process achieves higher product quality and a broader range of products than die forming, regardless of which depositor is used. But it does seem that some companies that have chosen the depositing process persist with the use of multiple low cost depositors when a more cost effective choice is available.
After starting with a low-cost depositor there is a tendency to add more of the same as business expands. But a point is reached fairly quickly where the alternative of a single high output line makes every kind of sense.
Small, low-cost depositors seem good value in capital costs terms, but that is soon negated by poor weight control, high scrap, and general unreliability caused by low quality components. A single high efficiency, high output depositor begins to make economic sense when replacing as few as two to three small machines; and with the capability to do the work of up to eight machines, the potential cost savings are substantial.
There is an argument that using multiple machines means that production does not stop completely if one of them breaks down. But why accept the inevitability of machines breaking down?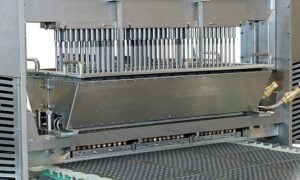 Manufacturers in virtually every industry neither expect nor tolerate unreliability in their production equipment and Baker Perkins' customers are no different. Our ServoForm™ depositors are designed and built for continuous operation and long term reliability using top-quality components, including servo motors and control systems, which are commonly available and fully supported around the world.
High precision in the depositor heads and nozzles are matched by the manufacture of high quality moulds – essential for product quality and weight control – so as well as massive savings in operating, cleaning and maintenance costs, a single ServoForm™ depositor also offers greater versatility and better product quality than low-cost machinery.
Consolidating production from multiple low output, low efficiency depositors to single high output, high efficiency machines will reap huge rewards in terms of lower costs, higher quality and greater versatility. In the evolution of a confectionery business it is a natural step that can provide a further impetus to growth and we have never known it to be regretted.