Tight control of cookie and frozen dough piece weight reduces giveaway and brings significant cost savings in dough and waste. Baker Perkins has addressed the issue through the new patent-pending TruWeight™ system which helps compensate for the machine and process variables that affect dough piece weights.
The results can be spectacular. In one case study we estimated reduction in annual giveaway on one shift throughout one year to be over $200,000. In another case study the figure was close to $100,000.
Dough piece weight variations could be across the band or belt width: for example, always having lighter weights at the outer edges. It could be a specific die cup or lane that is producing inconsistent weights.
There are a few common causes, and any one or combination of these can cause problems:
Dough inconsistency: This could mean issues with dough feeding equating to an uneven distribution of dough in the equipment hopper, or inconsistent hopper feed levels causing deviations in head pressure. Dough inconsistencies can also come from the dough itself – whether from a change in ingredient supplier, varying ambient and/or dough temperatures and even the mixing process can result in an uneven distribution of inclusions throughout the dough. All can have an effect on piece weights.
Die component wear and/or damage: Wear or damage to any of the die components including die cups, filler block or wireframe can alter the flow of dough through the wirecut and create weight variations.
Wirecut component wear and/or damage: Much like the die components, excessive wear or damage to the wirecut machine can result in leakage or inefficient processing, which can alter the end product.
Wirecut alignment: The gap between the feed rolls and filler block plays an integral role in the processing of dough through the wirecut or frozen dough machine head. Excessive wear or damage to that area can also affect weights. Similarly, a misaligned wireframe can cause inconsistent dough piece sizes and weights.
The TruWeight™ solution
TruWeight™ is a means of compensating for these machine or process variables. It uses die configuration adjustments coupled with an integrated scale and weight collection feature to identify weight inconsistencies and adjust the machine accordingly. It checks cookie and frozen dough piece weight during production, compares the weights to the target, then analyses the weights captured and recommends machine adjustments to compensate for any deviations.
Data and equipment settings can be stored for future reference and to identify trends. The matrix of weight data can be saved to a USB or a designated network location, with a file name documenting date, shift, recipe and any other pertinent information, making it easy to store production data.
TruWeight™ operation
TruWeight™ can operate as an electro/mechanical system to make adjustments automatically, or as a manual mechanical alternative. This allows customers to select the option best suited to their plant and products; both options allow adjustments to be made while the machine is running.
The electro/mechanical version is for those who prefer the ease of automatic adjustments to achieve weight control improvements, and uses stepper motors to control dough flow through each individual die cup. Buttons on the HMI allow adjustment of this flow to address weight inconsistencies.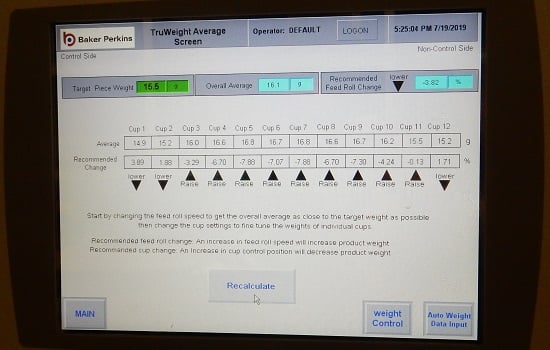 Manual adjustment involves no additional electrical controls. It uses T handles at the infeed guard on the wirecut to allow the operator to make manual adjustments to the dough flow through each individual cup.
After a recipe is created and a cookie target weight logged into the HMI, production begins as normal; cookie weights are taken on the TruWeight™ scale and a matrix of piece weights populated for analysis. If any individual cup variance is greater than 1% of the set target weight, TruWeight™ will automatically carry out adjustments within the machine to compensate, or recommend adjustments to the operator.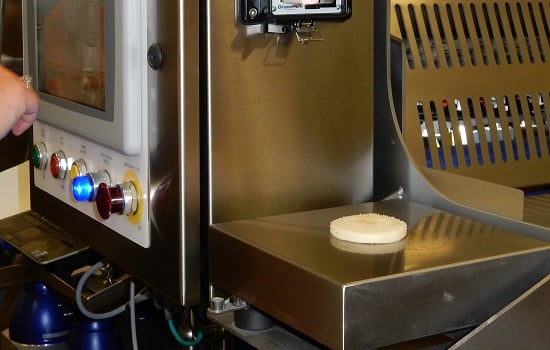 Feed roll speed is the first adjustment used to bring weights as close to target as possible; alterations to the dough flow to individual die cups come next. These adjustments continue to be made automatically, or are recommended to the operator, throughout each product run.
Waste reductions and cost savings are, of course, case specific. We have TruWeight™ capability in our Innovation Center at Grand Rapids, Michigan, where our process experts can work with you to assess your product range and likely results.
During the pandemic we are offering virtual trials to allow companies to perform product testing from the office or home.
View our full range of Industrial Biscuit, Cookie & Cracker Equipment online.