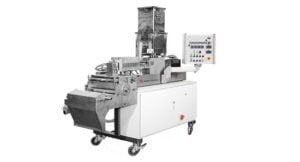 The choice of an extrusion system is one of the most important business decisions a powder coatings manufacturer can make. Get it wrong, and the business may not survive the potential difficulties of poor quality and delayed deliveries.
By the time your supplier has sorted out poor performance, or you have bought another machine, your customers may have taken flight.
So beware of over-enthusiastic web sites and leaflets gushing with self-praise, and take a cold, hard look at whatever machine suppliers are claiming.
Always ask to see manufacturing facilities. Ask to see a similar machine in action: yes, there are excellent reasons why competitors don't want guests, but it would be worth a trip abroad to visit a non-competitive organisation. Talk to that company about the supplier: quality, service, attitude.
Always visit the supplier to assess whether promises of after sales support are factual or based on wishful thinking. The best extruder in the world is of little use when it breaks down and fixing it takes weeks.
Beware of suppliers that over-criticise their competition: this can be a diversion, and a sign of lack of confidence in their own product.
Beware also suppliers that represent a number of extruder manufacturers, either for new equipment or service and parts. These are often small organisations with little back-up; their initial recommendation may not be impartial, and the qualities of parts replicated from an OEM are unlikely to match those from the original drawings.
Monitor small suppliers making big technical claims. Are they innovators, or just duplicating technology, control and efficiency improvements developed elsewhere – both in new machines and after-sales options?
These are just a few general points: next, I'll be blogging about some of the important technical considerations involved.