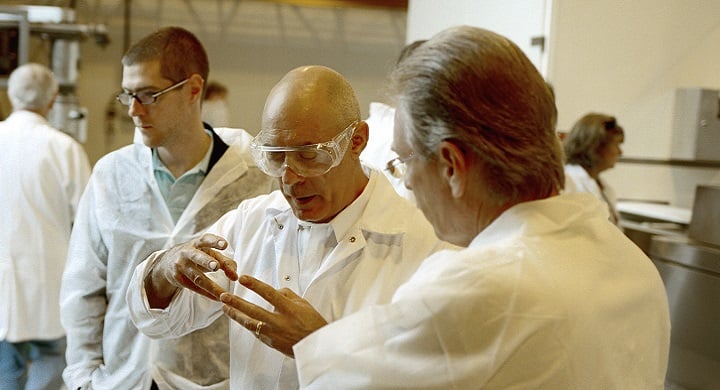 Baker Perkins provides full process support to customers in the snack industry. Process support extends from advice and trials to establish a new or upgraded product range before equipment is ordered, to optimization of an installed system.
Innovation Centre
Baker Perkins pre-commissioning process support is based in the Innovation Centre at Peterborough. Here, equipment is available to enable customers to create new products and processes, produce samples for evaluation, and conduct feasibility trials.
The centre is used by companies new to the snack industry, and established manufacturers testing new product ideas without absorbing valuable production plant time. The innovation centre is a secure environment where visitors are assured of total confidentiality.
Dedicated Technology
The Innovation Centre contains equipment dedicated to the snack industry. Experienced process technologists are on hand to offer help on product formulations, process parameters and equipment selection. A wide variety of ingredients, flavours and colours can be assessed.
Customers visit the Innovation Centre to verify line extension proposals, and develop new products. The Baker Perkins Snack Master concept allows the incorporation of additional units into a line, and projects can be assessed and proven in the Innovation Centre.
Innovation Centre Facilities
A production scale MP50 solid barrel twin-screw extruder can be configured for a wide range of snacks- including co-extruded products. There are also facilities to test post-extrusion forming options such as the pillow crimper
Companies from every part of the world find that thorough trials, ideally using their own raw materials, provide a reliable basis for trouble-free commissioning of new plant or launch of new products.
Commissioning & Training
Baker Perkins installs and commissions new plant, and ensures product quality and output; operators can be trained either at Peterborough or in the customers' factory.
Ongoing services include benchmarking and process optimization of installed equipment. We analyse current operation, and fine-tune machinery to maximize performance and reduce operating costs.