About
The Capital Sales team's primary function is to identify opportunities around the world for the sale of equipment. We do this by working with agents in various countries and regions around the globe, attending trade shows, visiting known and new customers as well as a web-based marketing strategy.
Once an opportunity is identified, we work closely with the customer to determine the products and processes used to produce their end product. We then perform all the necessary calculations to specify the correct Baker Perkins equipment required.
Once that equipment is identified, we go on to create detailed costing data, layout drawings and a proposal document containing detailed technical specifications and commercial conditions ready for presentation to the customer.
We work closely with other departments around the business to ensure that when an order is received, we can execute it efficiently and to the customer's exact requirements; most orders are for our standard equipment which is then re-designed to be specific to the customers' requirements.
Once an order is received we are involved in the approval process, which involves detailed cost reviews, risk reviews, design and specification reviews before we can finally hand over the order into operations where the design, purchasing and manufacture will start.
Entry qualifications
We typically look for the following in our new starters:
Proficient in Microsoft Office products – Word, Excel and PowerPoint
Excellent numeracy skills
Ability to source cost information and estimate costs based upon available data
Awareness of commercial procedures
Ability to present to customers in a positive manner
Knowledge or experience of food industry
Ability to liaise with supplier
Customer-focused
Ability to liaise with 'Internal Customers' such as the Operations group
AutoCAD experience
Ability to undertake UK and overseas travel
Engineering background or qualifications (role-specific)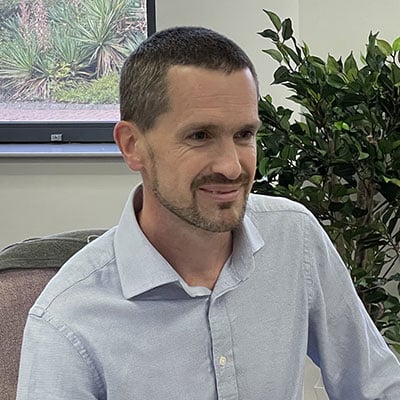 Steve Philpott
Sales Team Manager – Bread and Biscuit
Steve has always loved seeing how things work and was inspired by the idea of applying his engineering degree to the manufacture of the food that we all eat! Starting in the design team at Baker Perkins he quickly had the opportunity to spend time in customer bakeries seeing how Baker Perkins equipment is used and helping improve it to make the very best food products.
Working with customers led to an opportunity in Sales in which Steve has enjoyed learning the commercial side of the business by developing and presenting solutions to customers, negotiating contracts and working with agents around the world. Steve has enjoyed traveling and serving customers in many different countries over the years and has been part of their success stories, seeing our hard work turn into reality in their factories.
Steve's job now is to lead the Sales team in doing that while ensuring we keep good commercial control of our sales contracts. Manufacturing and food are a great combination of industries to work in!
Cameron Gilchrist
Sales Account Manager
Cameron started working for Baker Perkins at 16 years old as an Engineering Apprentice, then after 4 years he became a Fitter before multi-skilling in electrics.
In 2011 Cameron moved from the factory environment into the Sales office as a Sales Engineer supporting the Sales Managers, before in 2014 moving into Customer Services as a Project Co-Ordinator seeking a more customer-facing role. This eventually led him back to the Sales office as a Sales Account Manager.
Cameron spends the majority of his time with customers, whether visiting them on their sites across Europe or inviting them into our Innovation Centre, based in the UK, for trials and demonstrations on our machinery. Cameron has enjoyed good success in the sales environment working with small family businesses to multi-nationals resulting in single machine sales to full productions lines.
Lewis Challis
Sales Support Engineer
Lewis has worked for Baker Perkins since 2015 where he started his apprenticeship as a metal fabricator. After completing his apprenticeship he went on to work in the Fabrication shop at Peterborough for a short while, he then progressed into the Sales team working for Pete Scott-Johnson as a Sales Support Engineer.
Lewis is part of the Bakery team where he has learnt new skills to enable him to produce capital quotes, cost estimates and equipment layout drawings ready for the Account Managers to present to customers, helping to secure new projects. Lewis is involved in every step of the enquiry from receiving the initial request right through to the project launch into manufacturing. This can include traveling to a customer's site to review the requirements, attending technical reviews, creating detailed costs information, internal approval processes, product trials and arranging and attending the Order Launch meetings.
Ekaterina Krakovskaya
Regional Account Manager
Ekaterina joined Baker Perkins in 2021 and is responsible for Capital Sales Equipment in Eastern Europe and Italy. She covers Confectionery, Extrusion and Biscuit product lines. She is managing sales activities directly, through the agents and distributors, including work with key accounts and multinationals, from the first contact with the customer until the project delivery. She is working closely with our team of technologists, engineers and project managers to ensure the delivery of the right solution for each and every customer.
Ekaterina received her Bachelor Degree in Philology and her acquired her technical and technological knowledge of processing and packaging manufacturing gained over 14 years working with important American, Australian and Italian manufacturing companies like JBT Corporation, tna and HBTS Srl managing sales of capital equipment.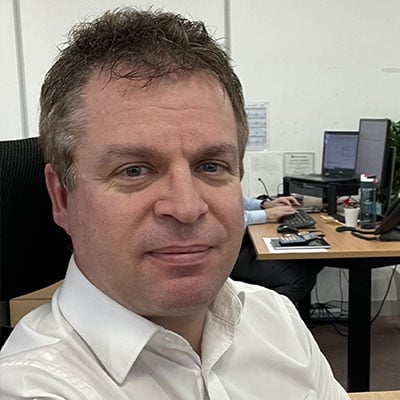 Pete Scott-Johnson
Sales Support Team Manager
Pete started working for Baker Perkins straight from school at 16 in 1989. He completed his first apprenticeship during his first four years with us and completed a fast track second apprenticeship during this time as well. In addition to this he attended college on day release to achieve BTEC national certificates in a variety of engineering-related subjects.
After completing his apprenticeships, he spent two years working night shift, then went onto working in the Peterborough factory and on customer's sites during the installation phases of new equipment and servicing and repairing existing equipment.
In 2001 he moved from the factory into the Sales office. He progressed through several job roles, gaining commercial experience before becoming the Sales Support Team Manager in 2016. He manages the team responsible for preparing every Capital equipment quote and request for the business and supports any customer request for help or information to help the Account Managers secure the sale of a new project.
The week starts with priority meetings where as a team we review the enquiries and prioritise the order of the quotes required for the coming week.
A typical day may then involve attending meetings, ranging from order launches, technical reviews or commercial reviews of any of the current prospects.
A Sales Support Engineer would typically spend a good portion of a day preparing Excel-based cost sheets, Word-based proposal documents and CAD drawings showing how our equipment may fit into a customer's factory. The Account Managers may also plan and arrange sales trips or spend the day travelling around the globe to customer sites for presentations or meetings, to discuss current or future projects. We may also arrange or be involved in customer visits to discuss projects or perform trials in our Innovation Centre.
The Sales teams work closely with just about every department in the business including:
Accounts and Finance: invoicing, commercial payment terms, letters or credit, costing exercises, managing of costs on projects
Project Management: arranging the handover of orders into the business, project reviews, order amendments, project cost monitoring
Purchasing: quotes for equipment and services, monitoring steel prices, monitoring components costs, reviewing specifications with suppliers
Engineering Design: risk reviews, specification reviews, product development, technical reviews
Innovation Centre: process support for new and existing enquiries, product trials, product development, equipment development
Manufacturing: scheduling for new projects, showing potential customers our facilities, review manufacturing methods, cost reviews
Installation & Commissioning: quotes for engineers on-site for new and current projects, cost reviews, schedules for engineers on-site
Aftermarket: spares enquiries, service agreements, support for any customer issues