About
The Machine Shop produces turned, milled, and ground components mainly for the Assembly shops. These components are required to enable the fitters to build the equipment we manufacture.
In addition, we also machine components for the Fabrication shop so that they can fabricate the frames which are the backbone of the equipment. We have a range of machine tools in the shop ranging, from 2 axis lathes with live tooling to 3 , 4 and 5 axis milling machines, one with a twin pallet system and one with a multi-pallet loading system operated by robotic arm.
There are several surface grinders with various size magnetic tables, and one cylindrical grinder. We have two EDM machines, one using copper electrodes while the other uses brass wire which can do intricate shapes. We machine materials, fabricated frames, and castings in a range of sizes, from small screws to large drums up to 1m in diameter
The work is varied and mostly small batch production runs. Due to manufacturing food equipment, most of the material machined is stainless steel but we also machine mild steel, aluminium, nylons, brass, phosphor bronze and some exotic materials.
The shop is split into three sections, each run by a Section Leader who is typically responsible for overseeing 10 employees.

Entry qualifications
Roles in the Machine Shop are usually recruited based on a mixture of experience and relevant qualifications. Typically we require skilled engineers with an approved Level 3 apprenticeship, applicants with other qualifications are also welcome, but they must pass a competency test to confirm their skill level
To become a mechanical apprentice ie.fabricator/welder, machinist or fitter we would be typically looking for someone with good grades in Maths and English and likes working with their hands and has a passion for engineering.
Brian Childs
Milling Machine Operator
Brian first joined us back in 1972 and alongside his current role he mentors our apprentices. His mentoring journey here at Baker Perkins began back in 2020 when he re-joined us after 20 years working elsewhere as an Engineering Training Instructor. This experience and his desire to pass on his skills to the next generation of engineers qualifies him perfectly as a much-valued mentor.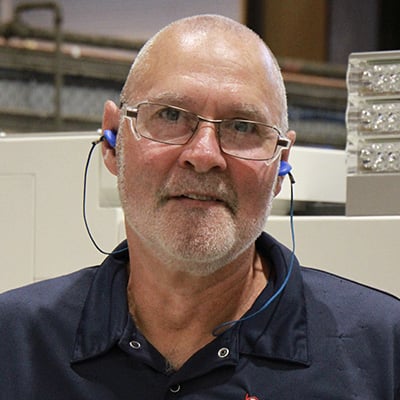 Nigel Wilkinson
Section Leader & Apprentice Co-ordinator
A seasoned engineer and former Engineering Assessor and Tutor, Nigel also brings a wealth of experience to the Machine Shop. Alongside his role as Section Leader, he has also been our Apprentice Co-ordinator since 2020. This role sees him work closely with the HR team, not only with current apprentices but also in raising awareness out in schools and colleges.
Andy Fisher
CNC miller
Andy works on a Dahlih 1200 CNC Milling machine and has recently achieved his NVQ Level 3 City and Guilds apprenticeship. Under Brian's mentorship, Andy has been with us for three years and is now in his improver year.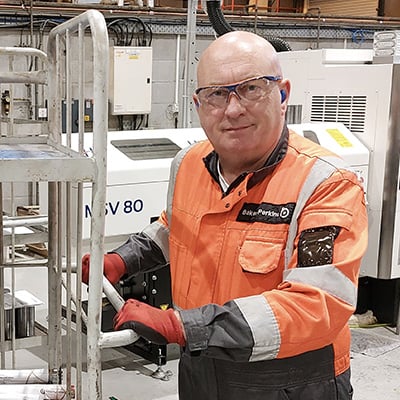 Nigel Grayson
Material handler
Nigel has been with us for two years and has formerly been a driver and supervisor. His role is as important to the Machine Shop team as the skilled operators. It involves moving the work around not only the Machine Shop but also the factory; this depends on its next location once an operation has been completed to ensure a smooth flow of production. In between this he also assists in keeping the shop floor clean and tidy, and emptying swarf skips so the machines keep running.
Here in the Machine Shop, the majority of the machines work to a scheduled 'work to' list, which allocates a week's worth of work (37 hrs for single shifted and 74 hrs for double shifted machines) required for that particular week. The Machine operators will typically start producing the components required, from the top of the list working their way down, overseen by the Section leaders.
Throughout the day Section leaders will be dealing with various issues, from logging Helpdesk requests for IT to maintenance issues. They have daily white board meetings to discuss the progress of the scheduling lists and any issues with missing material, program issues and work scheduled for the wrong machine due to capacity the machine can hold. They will also be going to the Technical and Production Engineering (PED) departments to deal with any drawing-related issues, from missing dimensions to planning issues where operations that are required are missed off.
We also have apprentices in our team. When they're on-site and not at college, they will be continuing to gain knowledge and understanding of machining principles.
First year apprentices do a round robin of all the machine tools, being placed with the skilled operators to gain an understanding of what each machine's capabilities are, types of tooling used and work holding methods, taking notes on what they learn. This provides them with insight into why jobs are done in a certain way and the challenges that the operators face producing the components being drawn and designed by the Technical team in the offices.
Second year apprentices start to utilise the knowledge gained from college, putting it into practice by running some machines alongside the operators, gaining confidence and further experience.
Although the Machine Shop is split into 3 sections, each with its own Section Leader, they all work together to ensure a fluent flow of work through the shop as it moves from one machine to another to ensure deadlines are met.
They also work closely with the Fabrication and Assembly shop Section Leaders to ensure that shortages of components required are manufactured quickly, so as not to hold up a fabrication or machine build.
In addition, when there are problems or issues with a job, they work closely with the Technical departments to come to a satisfactory conclusion. This could be a planning issue, where the job could be better suited on another machine, or where the job has issues and is not to drawing specification. By working together and coming up with the correct solution, it helps reduce scrappage and rework time.