About
The Chief Engineers hold a key role in the organisation providing the connection between Technical, Sales and Customers. They are the senior technical people within Baker Perkins, with the most process knowledge for any particular range of equipment and are responsible for the suitability of our equipment both from an engineering standpoint and in terms of solutions for our customers.
Baker Perkins operates in five process areas – Bakery, Biscuit, Confectionery, Extrusion and Snack and Industrial Extrusion. Each area has a Chief Engineer experienced in that particular field which does not just mean engineering knowledge, but also knowledge of the particular process and how this is affected and controlled by the equipment we design.
Entry qualifications
The Chief Engineers are Degree qualified in an engineering discipline; however, it is their experience in the fields of engineering design, product knowledge and commercial support of our Sales team that are key criteria for their role.
Mark Bloomfield
Chief Engineer Confectionery
Mark has a wealth of product and process know-how in confectionery engineering. He joined Baker Perkins as an electrical apprentice 26 years ago, later becoming a sponsored student at Loughborough University where he gained a degree in electrical and electronic engineering.
He is a Chartered Engineer – MIET – and has spent most of his career as an electrical and software engineer involved with confectionery equipment. Mark has a proven track record of working on key capital equipment projects, including plant commissioning, with confectionery companies around the world.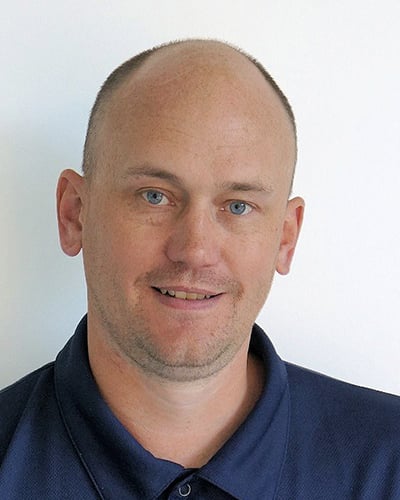 Chris Dodd
Chief Engineer Bakery
Before joining Baker Perkins over 4 years ago, Chris' work experience was based in the oil and gas industry focusing on the design and supply of industrial steam turbines and service support. Within that industry Chris's varied roles included Design Engineer through to Service Centre Manager.
In his role as Chief Engineer Bakery for Baker Perkins, Chris is heavily involved with the sales team developing solutions for new bakery installations as well as working with engineering and manufacturing for the technical completion of new projects.
In his time with us he has also been heavily involved with the commissioning of several high-speed bread plants around the world as well as the continued development of the Baker Perkins range of equipment, bringing in the next generation of equipment.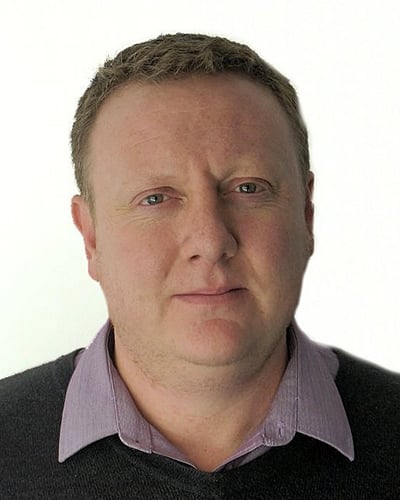 David Welch
Chief Engineer Biscuit, Cookie and Cracker
Dave joined Baker Perkins 20 years ago as a sponsored student before his electro-mechanical engineering degree at Aston University, Birmingham.
After a spell as a Design Engineer on biscuit machinery, he became a Commissioning Engineer, Assistant Chief Engineer and then Chief Engineer. He returned to this position after a spell as Engineering Project Manager at Cerealto, where he was instrumental in the establishment of a new biscuit and bar factory in the UK.
Duncan Marr
Chief Engineer Cereal and Food Extrusion
Duncan began his career with Baker Perkins in 1996 as a Product Engineer in the Cereal and Snack Division, moving on to be Engineering Manager for the Extrusion, Cereal and Snack section.
Duncan undertook a period working for Weetabix in various roles including Projects Engineering Manager, Works Engineer and then finally Capital Projects Manager. On his return to Baker Perkins in 2015 he took up the role of Chief Engineer Cereal and Food Extrusion, offering a unique combination of perspectives from both the customer's and supplier's viewpoint.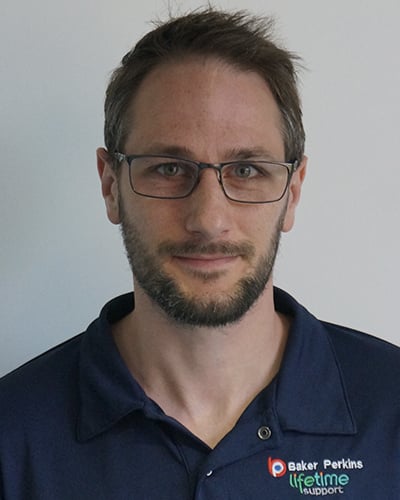 Robin Laukaitis
Chief Engineer Industrial Extrusion (IEX)
Robin graduated with a degree in Industrial Design, gaining experience designing MEWP's (mobile elevated work platforms) and Climbing Walls before starting at Baker Perkins.
He has worked for Baker Perkins for 10 years and has held a number of progressive rolls; Graduate, Mechanical, Senior and Product Engineer leading to his current position of Chief Engineer for IEX.
No two days are the same! The Chief Engineers sit in the Sales office rather than the Technical office, specifically to ensure they are involved from the first time a customer engages with us. This means new opportunities arrive each day, either from the Sales team or customers directly, and can be anything from a quick conversation confirming a technical detail, through to taking on the challenge of reconfiguring a whole line of equipment to produce a new product for a customer.
Although we have a core range of equipment it is almost inevitable that customers' requirements mean they are customised to operate faster or in a new layout configuration etc; each product you see on the supermarket shelf has some unique aspect to its production and the Chief Engineers have the experience to define these, ensuring the equipment covers a wide range of customer requests. Development of new machine designs is also a key responsibility of the Chief Engineers; they define the requirements based on market needs, with an understanding of the competition and the push for new features and levels of performance on production rates and hygienic design.
Travelling to visit customers around the world is also part of the job, either supporting the Sales team or visiting customers directly to discuss technical issues.
The Chief Engineer role is deliberately placed centrally to all the functions of the company, as it bridges Sales, Technical, Operations and Customer Services.
From an initial enquiry the end-to-end process could look like:
Involvement with Sales and Technical specifying the solution for our customers
Following the specification and design through the Technical office
Continuing this into Operations for the manufacturing of the components
The final assembly
When the equipment is installed, the Chief Engineer is typically involved in supporting the commissioning and bringing the equipment into production, directly working with the teams from both Baker Perkins, including I&C, and the customer. With our Lifetime Support packages through Customer Services, the historical knowledge and experience becomes an invaluable resource for supporting the older equipment which can be in production for 30 to 40 years.
The role is a demanding one, however all our Chief Engineers are widely known and trusted throughout the industry and ensure Baker Perkins continues to offer best in class process equipment.