Baker Perkins and Kemutec to showcase food processing solutions at Interpack 2023
Technologies from Baker Perkins and Kemutec will be exhibiting at Interpack, in Hall 1, stand 1B07. Baker Perkins will exhibit process developments for the confectionery, biscuit and food extrusion sectors.
Find us in Hall 1, Stand B07.
Full detail of the show can be found at www.interpack.com
New depositing innovations from Baker Perkins
A range of new Baker Perkins equipment designed for the burgeoning market of functional, nutraceutical and healthcare confectionery will be on display. These include two innovative starch-free depositors which are an extension of the ServoForm™ range which extends from small batch and laboratory scale equipment to fully automated high-output continuous lines.
The 50kg/hour ServoForm™ Mini+ depositor meets increasing demand for high-viscosity recipes and gummies with liquid centre fillings; while the ServoForm™ Flexi offers higher outputs from 100 to 1000 kg/hour. Both depositors can be incorporated into completely automated lines, from ingredient handling to finished product, as well as being utilised in the conventional confectionery industry.
Incorporating a mould lift feature, the ServoForm™ Mini+ achieves high-accuracy positioning, and a clean separation without tailing of the thin strand of viscous syrup between one deposit and the next. The filling is prepared and deposited at ambient temperature to avoid heat degradation of high-value active ingredients.
The ServoForm™ Flexi combines the benefits of Baker Perkins' hygienic starch-free depositing with the flexibility to choose setting times between a few minutes and several hours – ideal for the lower throughputs that are typically required for the functional, nutraceutical and healthcare markets.
An automated Flexi line features four robots to link the process steps which include ingredient feed, cooking, depositing, cooling, demoulding and mould return.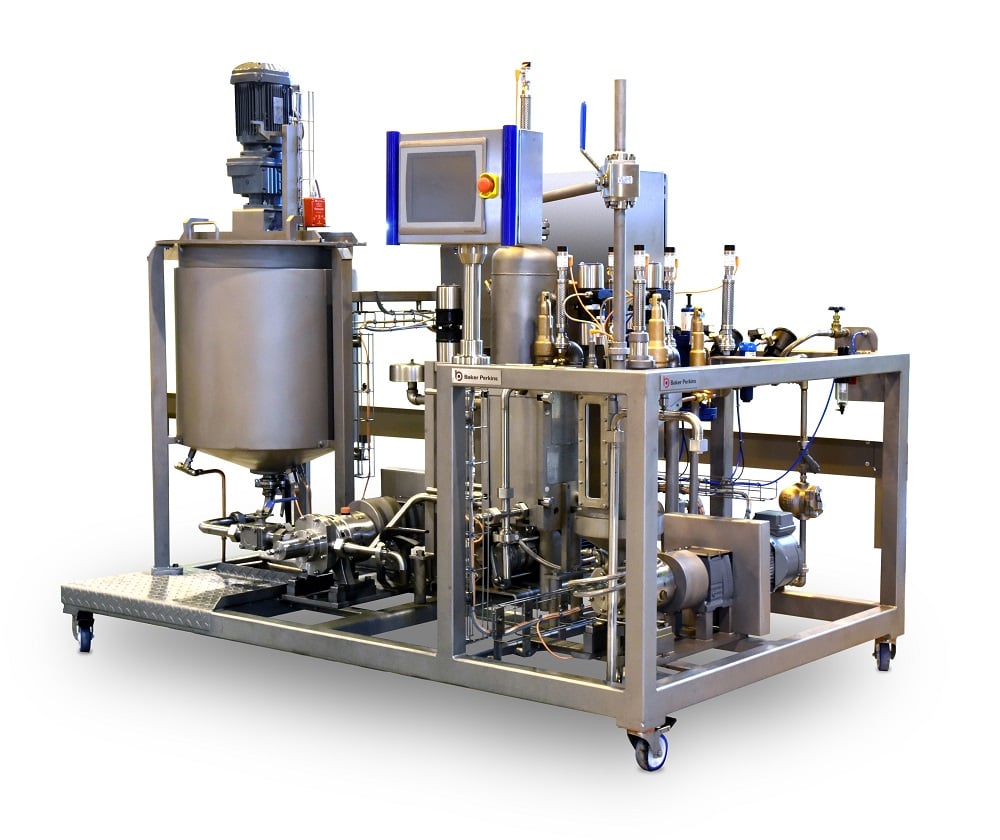 The Turbofilm Mini cooker on display is a continuous cooking system for soft confectionery (pectin, gelatin or blends) or hard candy, toffees and flat or ball lollipops, designed for use in ServoForm Mini systems.
It combines continuous dissolving and cooking in a compact, portable module bringing the benefits of high efficiency, low energy use and simplicity of operation. It is ideal for high-value functional and medicated environments; or to produce short runs/large batches for research, product development and test marketing purposes.
A new Baker Perkins demoulder will also be on the stand. After setting, the moulds are loaded into this machine; the product is removed gently and transferred to finishing processes such as oiling, sanding and conditioning before packaging.
Rotary moulder for soft dough biscuits and cookies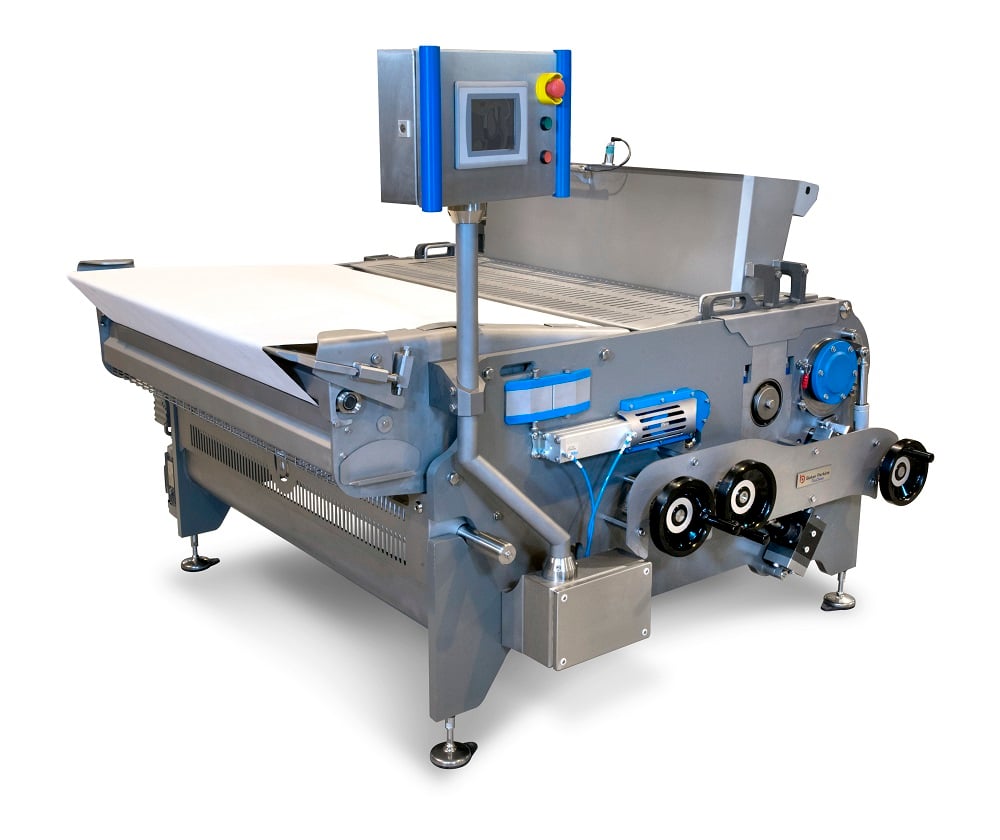 The TruClean Series3 rotary moulder on show at Interpack combines the highest standards of hygiene and operation with low maintenance costs. It provides consistent, accurate control of size, weight and texture at high outputs.
A full range of precision adjustments is available to ensure that products – ranging from the thinnest crisps to the thickest bars, the smallest ingredients to the largest biscuits – can all be produced accurately and reliably.
Pushing the dough into the moulds and then extracting it cleanly at high speed requires special arrangements. Independent drives and settings sustain optimum performance at high output through adjusting and maintaining all critical process parameters such as roll and web speeds, forcing roll gap and speed, scraper position and web tension.
Expertise in TVP production
Baker Perkins' twin-screw extrusion technology is at the heart of versatile systems producing a wide range of high-quality extruded ingredients and snacks.
An SBX Master twin-screw extruder will be on show at Interpack, with a die developed specifically to process TVP (Texturised Vegetable Protein).
TVP extrusion
Texturising plant proteins to make meat substitutes, fillers and extenders using twin-screw extrusion is advancing rapidly, enabling food manufacturers to capitalise on the surge of interest in plant-based eating. Baker Perkins has innovative processes for both High Moisture Meat Analogues (HMMA) and dry TVP.
HMMA is widely used to make both ingredients and finished products. Ingredients for prepared dishes include mince, chunks and strips, typically for curries, stews, casseroles, pizza toppings, pasta dishes and soups. Completely meat-free products include burgers, sausages and meatballs.
HMMA involves chilled distribution, and manufacturers entering this sector must produce and process the product before distributing directly to into the end product.
Conventional dry TVP has by comparison with HMMA a long shelf life, and can be manufactured, dried and sold in bulk for processing. It is rehydrated before incorporation into meat-free products such as burgers, sausages, chicken nuggets, meatballs and prepared dishes.
For dry TVP, twin screw cooker extruder technology is used to form a melt that is extruded through a die and formed/cut into flakes, pellets or chunks before being dried.
Baker Perkins' SBX extruders can process a variety of different proteins including soy, pea and wheat; beans, lentils and other pulses can also be used. Baker Perkins also develops recipes for customers' own chosen protein taking into account local taste and flavour profile preferences as well as ingredient availability.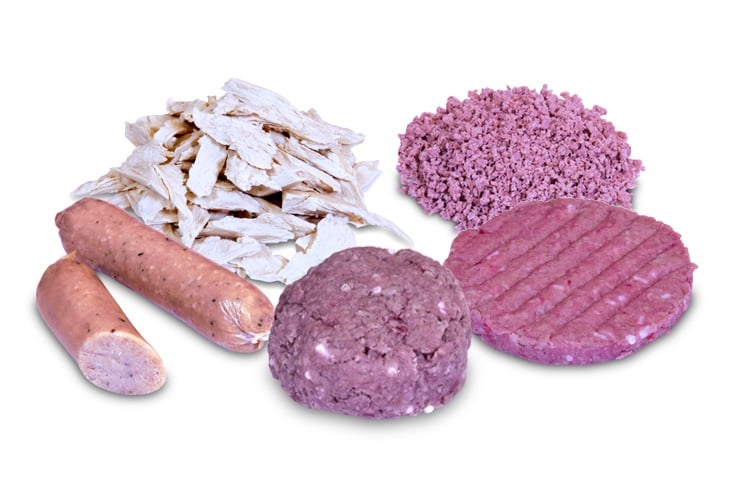 Food ingredient extrusion
Baker Perkins twin-screw extrusion technology provides a hygienic, energy efficient method of producing core ingredients for the food industry.
Typical examples include soy or grain crispy pieces that add texture and functionality to bars and dairy products; modified flours and starches that act as clean-label thickeners and emulsifiers for soups, sauces, desserts and beverages; and standard or gluten-free breadcrumb and croutons.
Snack food extrusion
Baker Perkins' extruded snacks systems use a range of basic ingredients ensures their relevance throughout the world.
A choice of production methods presents an extensive variety of product opportunities. Many systems can be easily and quickly adjusted to generate a variety of extruded snacks, allowing companies to keep pace with fast-changing consumer demand in a dynamic market.
Product choice ranges from standard balls, curls, rings and chipsticks, to complex, high-value snacks in intriguing shapes, with flavoursome fillings. The ability to add virtually any colour and flavour allows every snack to be tailored to meet local customs and taste.
Co-extruded filled snacks incorporate centre fillings within a cereal outer. The ability to control three key aspects of the process – texture, filling and shape – creates the freedom to develop a wide variety of added-value extruded snacks.