Baker Perkins will be exhibiting at Gulfood Manufacturing at the World Trade Centre in Dubai, UAE, 8th – 10th November, 2022.
Find us in the Trade Centre Arena on stand S-K4.
We will focus on our capabilities in the confectionery, extrusion, biscuit, cereal and bread sectors; we will also introduce our new capability to provide complete process lines from ingredient delivery to packaging infeed, in partnership with parent company Schenck Process Group.
Full details of the show can be found at www.gulfoodmanufacturing.com
Confectionery
Baker Perkins has introduced two new developments to meet demand for gummies and jellies in the functional, medicated and healthcare confectionery markets.
The ServoForm™ Flexi is a new starch-free depositor with outputs up to 250,000pieces/hr (1,000kg/hr). The established 50kg/hour ServoForm™ Mini has been upgraded to facilitate simple one-shot depositing of centre-filled products.
The new ServoForm™ Flexi solves problems associated with conventional starch moulding including the mogul – high costs, poor hygiene, and for the health, functional and nutraceutical sectors, the impossibility of validation.
The Flexi meets the needs of manufacturers looking for the hygiene and simplicity of starch-free depositing but with the longer setting times and versatility of moguls. Products using gelatin, pectin, carrageenan or blends as the gelling agent can all be handled.
Depositing is at final solids, so although the products need time to set before being demoulded no drying is required. Setting time varies according to composition, from a few minutes for some pectin recipes up to a maximum of four hours for gelatin. This significantly reduces the time, energy and space required for post-depositing operations.
Two versions of the ServoForm™ Flexi are available: a single depositing head gives outputs up to 125,000 pieces/hr (500 kg/hr); a longer machine with two heads can produce up to 250,000pieces/hr (1,000kg/hr). It can produce both conventional and functional confectionery.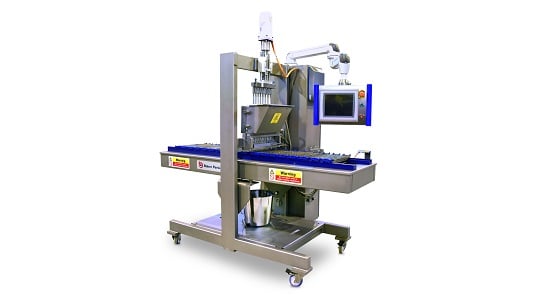 The ServoForm™ Mini+ meets a need for products, particularly from the healthcare sector, for lower outputs of products with high viscosity casings and fillings. It is an extension to the proven ServoForm™ Mini depositor, of which more than 150 have been sold.
An inventive servo-controlled process featuring a mould lift – standard on Flexi and high-output continuous depositors – ensures high accuracy mould positioning and rapid setting to avoid degradation of high-value fillings.
Gummies are used to deliver a variety of functional ingredients including vitamins, minerals, fibre, CBD, protein, Omega-3, robotics and energy supplements. Hard candies include antiseptics, menthol and eucalyptus oil to alleviate the symptoms of minor ailments such as coughs, colds, sore throats and nasal congestion.
Baker Perkins also supplies complete high-output cooking, starch-free depositing and cooling lines for the full range of hard and soft sugar confectionery – hard candy and lollipops, jellies and gummies, toffee and caramel, fondant and fudge.
TVP extrusion
We will stress the widening capability and flexibility twin-screw extrusion brings to producing a variety of foods and ingredients, including the most recent developments in TVP (Texturised Vegetable Protein) for meat substitutes and extenders.
TVP in various forms has been used as a meat substitute since the 1960s. It is also used as a meat extender in conjunction with real meat in products aimed at environmentally-concerned or health-conscious consumers. Most products currently being launched are completely meat-free and suitable for vegans and vegetarians, but there is significant acceleration in the market among consumers willing to cut down on meat for environmental or health reasons, but unwilling to compromise on taste and texture.
Baker Perkins has innovative processes for both dry TVP produced by Low Moisture Extrusion Cooking (LMEC) and High Moisture Meat Analogues (HMMA).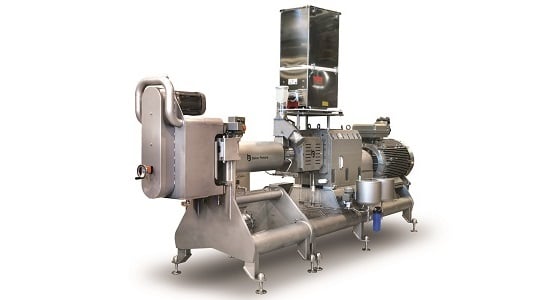 Baker Perkins' SBX Master™ extruders can process a variety of different proteins including soy, pea and wheat; beans, lentils and other pulses can also be used. Baker Perkins also develops recipes for customers' own chosen protein taking into account local taste and flavour profile preferences as well as ingredient availability.
Food ingredient extrusion

Baker Perkins twin-screw extrusion technology provides a hygienic, energy efficient method of producing core ingredients for the food industry.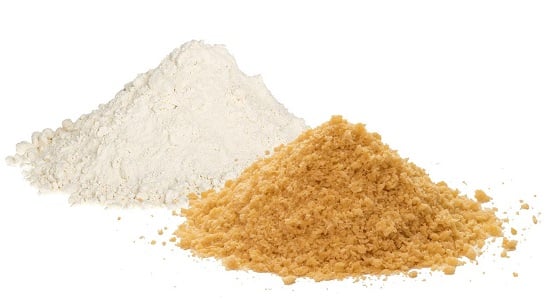 Typical examples include soy or grain crispy pieces that add texture and functionality to bars and dairy products; modified flours and starches that act as clean-label thickeners and emulsifiers for soups, sauces, desserts and beverages; and standard or gluten-free breadcrumb and croutons.
Extrusion is perhaps the most versatile process available to the food industry. It is capable of producing a wide range of end products from a variety of different ingredients and rapidly switching between them. It can replicate products made using other, less flexible, methods and the breadth of process options offers product developers plenty of scope for innovation.
Biscuits, cookies and crackers

Baker Perkins supplies equipment to make unique products in profitable niche markets as well as complete, automatic production plants with mixing, dough forming, baking and cream sandwiching technology.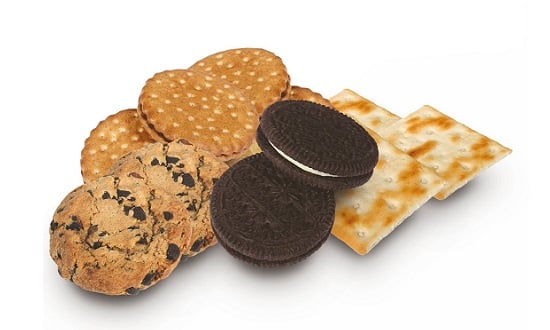 We cover every conceivable type of conventional soft and hard biscuit, cookie and cracker plus filled cookies, bars and filled bars. Frozen dough and encapsulated cookies are specific areas of expertise.
We are introducing two new laboratory scale units – a rotary moulder and a wirecut – which will be available in our Innovation Center at Grand Rapids, Michigan, and can also be installed in customers' facilities. These machines are used for new product development, ingredient and recipe testing and process troubleshooting. They do so with the minimum of time, effort and money – and reproduce precisely the process of a full-size machine.
Baker Perkins has completed new design projects across the range, including a patented servo-driven wirecut; an automatic weight control system for wirecuts; and the precisely controlled HiCirc oven.
A complete range of unit machines combined with the process knowledge and engineering expertise to build them into reliable and flexible high-output systems enables Baker Perkins to provide lines for rotary steam cooking or extruding virtually every kind of ready-to-eat breakfast cereal, from traditional corn flakes to modern filled pillows.
These lines comprise standard process modules combined in different ways to make different products and can be expanded at any time with the addition of extra modules to increase output, or change or extend the product range.
We will emphasise the qualities of our range of bread mixing and forming machinery and systems. Baker Perkins' dough mixing and dough forming systems for high-output tin and pan bread plant bakeries are designed in collaboration with bakers to maximize quality and minimize cost. Gentle dough handling arising from innovative design, combined with the latest control technology, produces bread at new levels of consistency and excellence
A recent innovation is the Tweedy™ SuperCool mixer, which uses an enhanced cooling jacket to reduce the temperature rise during mixing by up to 5.5°C. This enables it to be used in almost every climate without the need for complex and costly ice addition or flour cooling. It is particularly advantageous for burger buns where the downstream processes require lower dough temperatures.
Schenck Process Group's material handling technology and Baker Perkins process expertise is being combined in complete process lines for the food industry, from ingredient delivery to packaging.
Harnessing the joint capability of Schenck and Baker Perkins brings the benefits of an automated line from a single supplier. It was the key driver in the decision to unite the two companies in one organization – both operate throughout the world.
Schenck Process engineers cutting-edge technologies and solutions across the bulk material handling spectrum. That includes accepting ingredients from the tanker, sifting, storing, conveying, weighing and feeding them into the process line. Baker Perkins takes over to convert the ingredients into finished product, ready for packaging.